APA SAJA YANG BISA DINIKMATI DI TAKSIM SQUARE & ISTIKLAL STREET DI ISTANBUL?
2020-03-03 00:00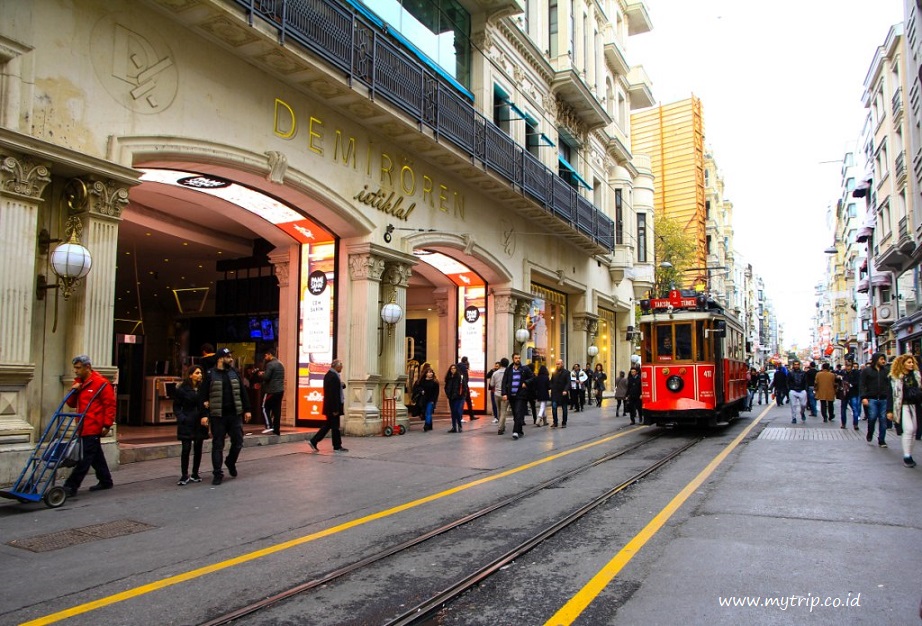 Trem tradisional, highlight Istiklal Street
Kalau kota-kota di Indonesia punya alun-alun yang menjadi pusat aktivitas warga, kota-kota di Eropa juga punya, biasa disebut square atau plaza. Istanbul yang berada di Eropa sekaligus Asia juga punya square yang sangat terkenal, yakni Taksim Square. Alun-alun yang di tengahnya berdiri Monument of Republic ini terhubung dengan Istikal Caddesi atau Istiklal Street. Belum ke Turki kalau belum strolling along di pedestrian ini. Mari simak apa saja yang bisa dinikmati di sana.
Taksim Square berada di Distrik Beyoglu (dulunya Distrik Pera), Istanbul bagian Eropa. Merupakan objek utama bagi wisatawan asing dan sekaligus tempat favorit warga untuk berkumpul. Central Station Istanbul Metro pun berada di sini. Posisinya yang di tengah-tengah tambah menguatkan legitimasi Taksim Square sebagai jantung kota Istanbul modern.
Penanda Taksim Square adalah Monument of Republic yang dipahat oleh pemahat Italia bernama Pietro Canonica, dan diresmikan tahun 1928. Monumen setinggi 11 m ini dibangun untuk memperingati ulang tahun ke-5 berdirinya Republik Turki tahun 1923.
Monument of Republic
Taksim Square juga menjadi lokasi acara, parade atau festival saat hari-hari besar termasuk Tahun Baru dan peringatan kemerdekaan. Sekaligus menjadi tempat strategis bagi para pendemo politik maupun suporter sepak bola.
Baca juga: "Blue Mosque yang Tidak Tampak Biru Dilihat Dari Luar"
Sedangkan Istiklal Caddesi (Independence Avenue) --dulunya disebut Grande Rue de Pera-- merupakan pedestrian sepanjang 1,4 km yang tak boleh dilewatkan. Di kiri kanannya penuh aneka toko, butik, galeri seni, resto –baik resto lokal maupun fast food jaringan internasional macam McDonald's, Pizza Hut, Burger King, Subway, juga hotel (termasuk InterContinental dan Ritz-Carlton), kafe, pub, bioskop, pusat budaya, opera house, juga travel agent.
Istiklal Caddesi, selalu ramai
Resto lokal yang namanya bikin ngakak. Ups!
Highlight Istiklal Caddesi adalah trem tradisional berwarna merah yang beroperasi sejak tahun 1875 hingga kini. Rutenya dari Taksim Square sampai ke ujung satunya dari Istiklal Caddesi yakni Tunnel Square, dekat Galata Tower. Selain mobil polisi dan mobil pejabat pemerintahan, hanya trem inilah kendaraan yang boleh melintas di jalan ini.
Trem tradisional yang melintas di Istiklal Caddesi
Gerobak penjual makanan juga banyak bertebaran di Istiklal Caddesi, di antaranya penjual kastanye (chestnut) bakar, jajanan khas di sana. Banyak juga toko-toko yang menjual camilan yang menjadi oleh-oleh wajib Turki yakni baklava (sweet pastry khas Turki), Turkish delights (lokum), kunefe/ kanafeh (semacam pastry juga), juga dondurma (es krim khas Turki plus atraksi penjualnya). Toko penjual suvenir termasuk pashmina juga banyak di sini, tinggal pilih.
Penjual chesnut bakar. Enaaak... Beli deh!
Turkish delights, buat oleh-oleh
Baklava yang menggiurkan
Di jalan ini jugalah terdapat Madame Tussauds Wax Museum dan Hard Rock Cafe. Sering kali juga sekelompok musisi jalanan menggelar pertunjukan ciamik di jalan ini, menjadi hiburan gratis bagi wisatawan. Etapi tentunya mereka berharap sumbangan ya... Pokoknya Istiklal Caddesi tak pernah sepi hingga larut malam.
Kelompok musisi jalanan menghibur para turis. Jangan lupa sumbangannya ya Kakak...
Teruslah menyusuri jalan ini, nyaris di ujungnya Trippers akan menemukan gereja cantik yang sayang dilewatkan, St. Anthony of Padua Church. Gereja ini bergaya neo-Gothic, dibangun antara tahun 1906 hingga 1911 oleh seorang arsitek Italia Giulio Mongeri. Inilah salah satu gereja terbesar yang juga memiliki komunitas Katolik terbesar di Istanbul. Kalau mau jeli menyusurinya, Trippers juga akan menemukan gereja lain, masjid tua, juga sinagog.
St. Anthony of Padua Church
SEJARAH SINGKATNYA
Taksim dalam bahasa Turki berarti "distribusi". Taksim Square awalnya merupakan lokasi di mana terdapat tangki air utama yang mengairi kota yang airnya disalurkan dari utara lalu didistribusikan ke bagian-bagian lain kota. Area ini dibangun oleh Sultan Mahmud I dari Kesultanan Ottoman.
Baca juga: "Pierre Loti Hill, Bukit yang Belum Tentu Didatangi Grup Tur ke Turki"
Dulunya pada abad ke-19 terdapat Taksim Artillery Barracks yang kemudian menjadi Taksim Stadium, tapi dihancurkan tahun 1940 saat pembangunan Taksim Gezi Park. Tahun 2013 pemerintah kota sempat berencana mengganti taman dengan shopping mall, dan menghalau para pendemo. Tapi tak jadi akhirnya karena gelombang protes begitu besar.
Berminat ke Turki? Hubungi Mayawati (Maya The Dreamer) di WhatsApp 0811821006. Ada jadwal terdekat, Turki Tulip Trip tanggal 4-13 April 2020.