KASKELLER BALI DAIRY: PENGALAMAN "SOUND OF MUSIC" DI BALI!
2022-01-22 10:50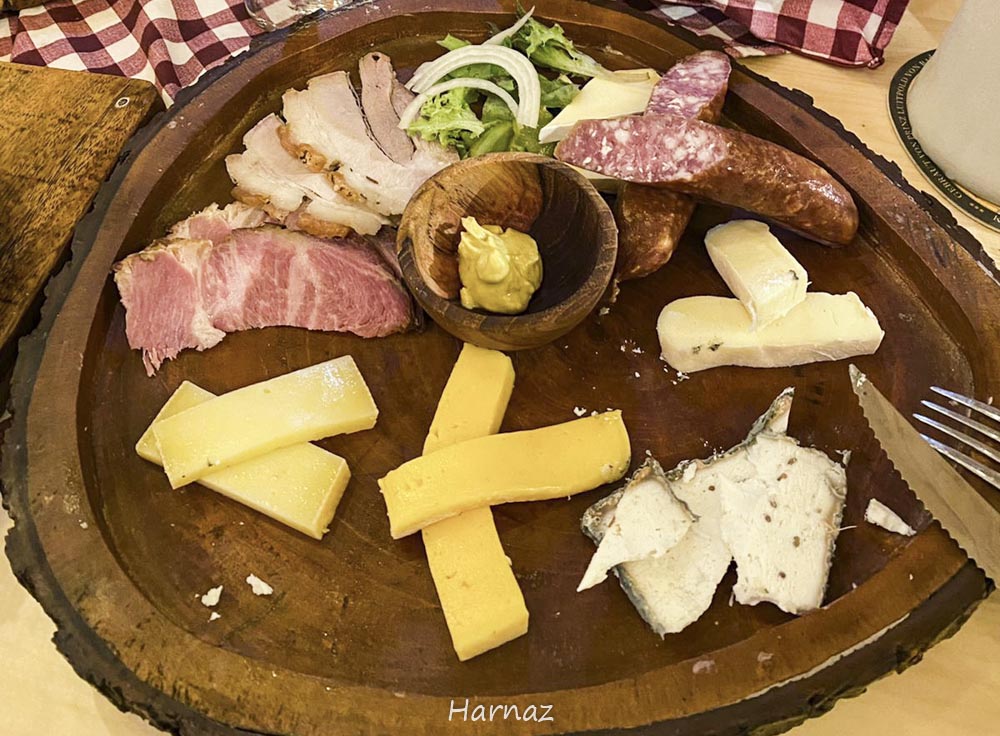 Brettljause: irisan daging asap dan awetan, acar mentimun dan cabai, roti gandum dan keju
Panduan GPS menuntun kami ke jalan yang semakin sempit di tengah komplek perumahan. Tiba-tiba, Mbak GPS meminta kami belok kiri, masuk ke jalan sempit diapit bedeng-bedeng beratap seng. "Kok ada restoran Jerman di tempat seperti ini?" pikir saya. Mobil pun masuk ke jalanan yang agak rusak, lalu ada sebuah tempat parkir beralas rumput. Hanya sebuah papan kayu yang jadi penunjuk: "Kaskeller. Bali Dairy. Parkplatz".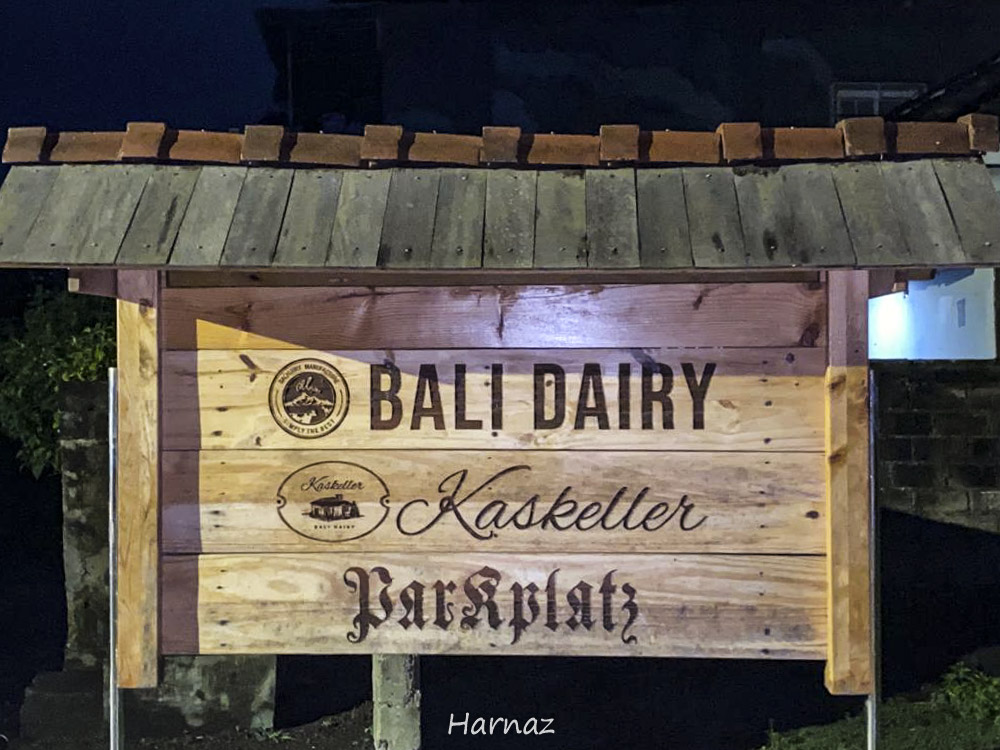 Kaskeller. Bali Dairy. Parkplatz
Kami lalu masuk ke toko Bali Dairy. Berdiri sejak 2013, rumah produksi keju ini memproduksi berbagai keju seperti Brie, Camembert, dan Tilsiter Blue Cheese. Setiap Jumat di outlet ini ada "all you can eat" cheese raclette (keju yang dipanaskan lalu dijadikan cocolan) yang sangat populer (reservasi dulu ya!). Di display ada berbagai macam keju produksi Bali Dairy yang siap dicicip dan dijual. "Oh, gini doang," pikir saya. Kemudian, mbaknya bilang, "Bapak punya reservasi restoran? Kalau restoran lokasinya di sebelah… namanya Kaskeller," katanya. Eh, ada lagi?
Baca juga: "Bertemu 'Nia Daniati' di The Cellardoor"
Di sebelah, hanya ada pintu pagar dan bagian belakang sebuah pabrik keju. Tapi, ada sebuah pintu kayu coklat muda khas Eropa berukir cantik, dengan tulisan "Kaskeller". Ketika saya buka, pintu ini bagaikan pintu Doraemon yang membawa saya ke Salzburg, Austria! Tembok putih dengan tangga ke basement, di sebelah kiri ada kisah sejarah produksi keju berbahasa Jerman. Lalu di ujung ada gantungan mantel untuk musim dingin (di Bali???) dan sebuah jendela bergaya Austria. Pintu toilet pria pun tulisannya "Buam" --sebutan dialek Austria dari "Bub" alias pria!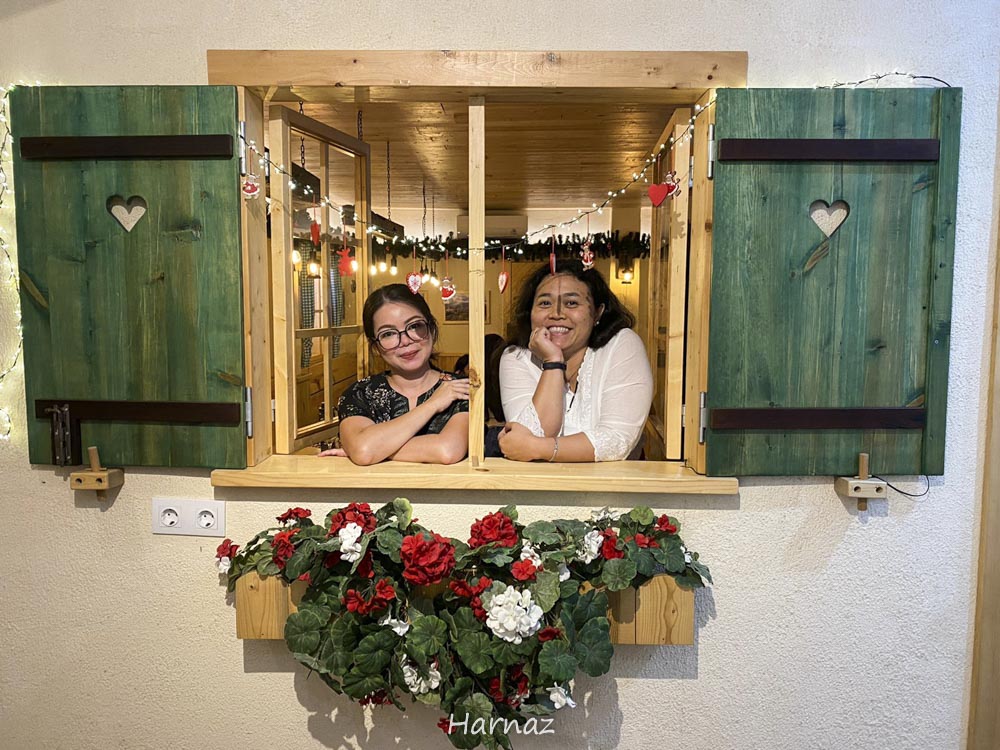 Jendela khas bergaya Austria di Kaskeller
Masuk ke dalam, saya tambah takjub. Alunan "Blasmusik" (musik terompet Oktoberfest) mengalun, bangku dan meja berjajar, juga terlihat interior khas kabin ski di Alpen dengan meja sudut bertuliskan "Stammtisch" alias meja asal, sebuah kebiasaan khas Austria. Seorang wanita menghampiri kami dengan dirndl atau pakaian wanita tradisional Austria. Persis di Austria atau Bavaria! Hanya, mbaknya berambut hitam dan berasal dari Karangasem. Mungkin namanya Ni Nyoman von Trapp?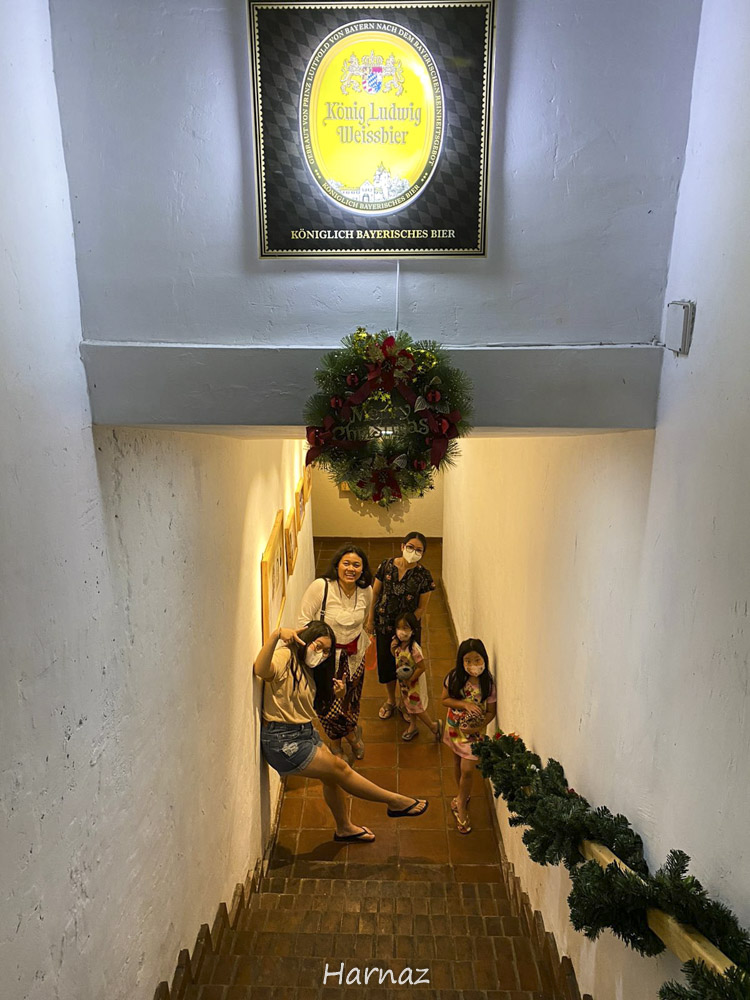 Pintu masuk Kaskeller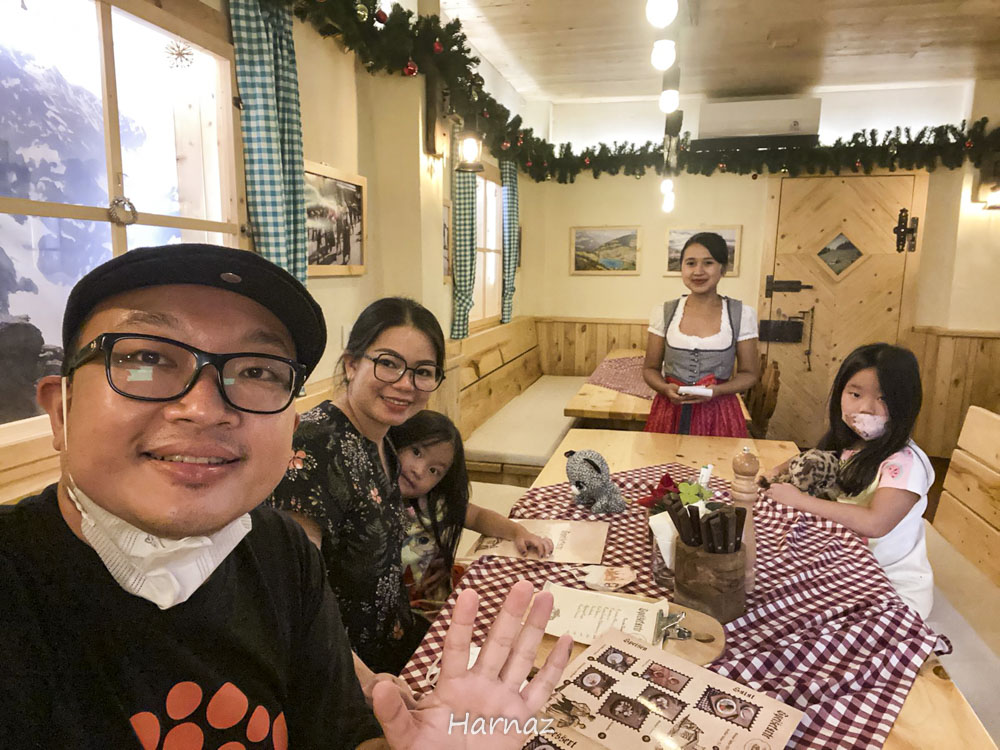 Mbak Ni Nyoman von Trapp dengan dirndl
Ya, inilah pengalaman "The Sound of Music" di Bali! Hati saya yang sempat tinggal di Austria pun meleleh, apalagi melihat jendela yang ditempeli lukisan seolah memandang pegunungan salju Puchberg di Grafenbach tempat saya tinggal dulu. Gimana makanannya?
Baca juga: "Warna-Warni Kuliner Austria"
Saya terbelalak melihat menunya! Pertama: bahasa Jerman semua. Kedua, ada favorit saya: Schweinebraten mit Knödel und Krautsalat (babi panggang dengan Knödel dan salad kol). Ada juga Brettljause: ini khas banget Lower Austria. Hidangan yang disajikan di atas talenan kayu, terdiri dari berbagai macam irisan daging asap dan awetan, acar mentimun dan cabai, roti gandum dan keju. Aduh, kalap! Knödel adalah hidangan khas Austria, dibuat dari adonan roti yang direbus, bentuknya seperti bakso besar, dan ada variasinya yang berisi daging.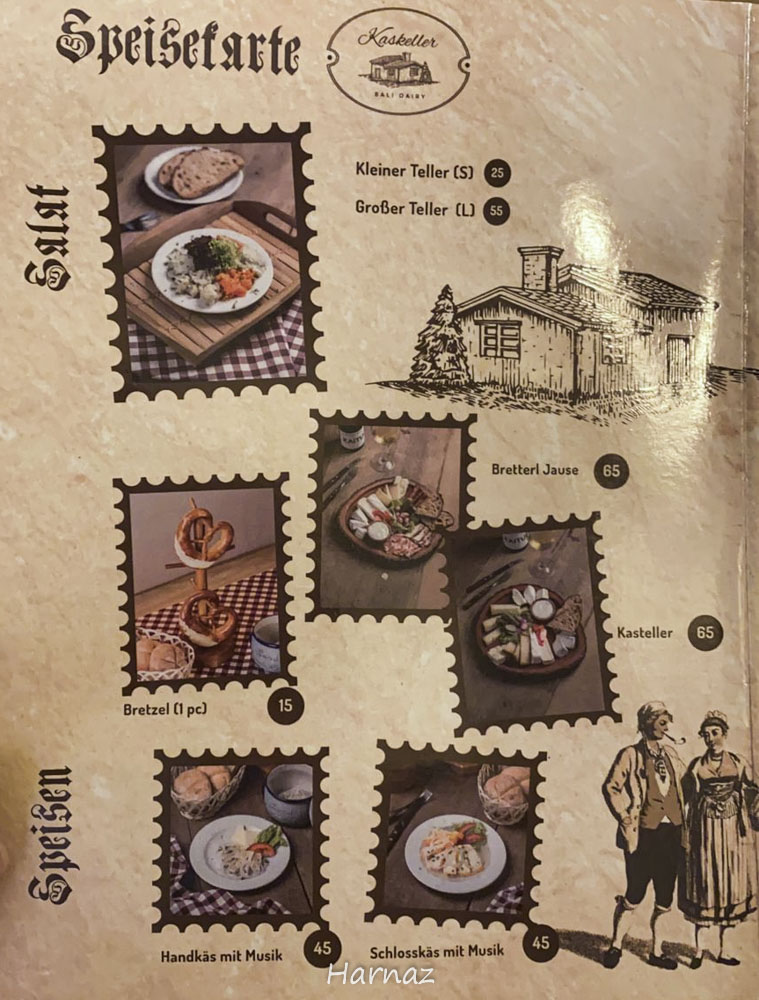 Menu Kaskeller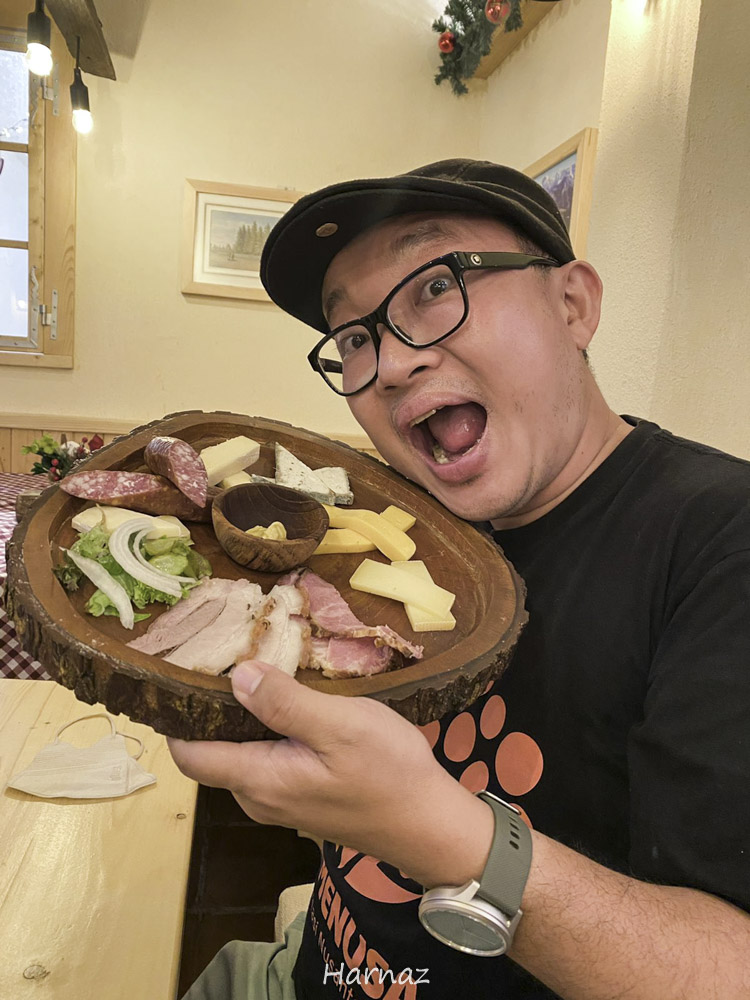 Brettljause, khas Austria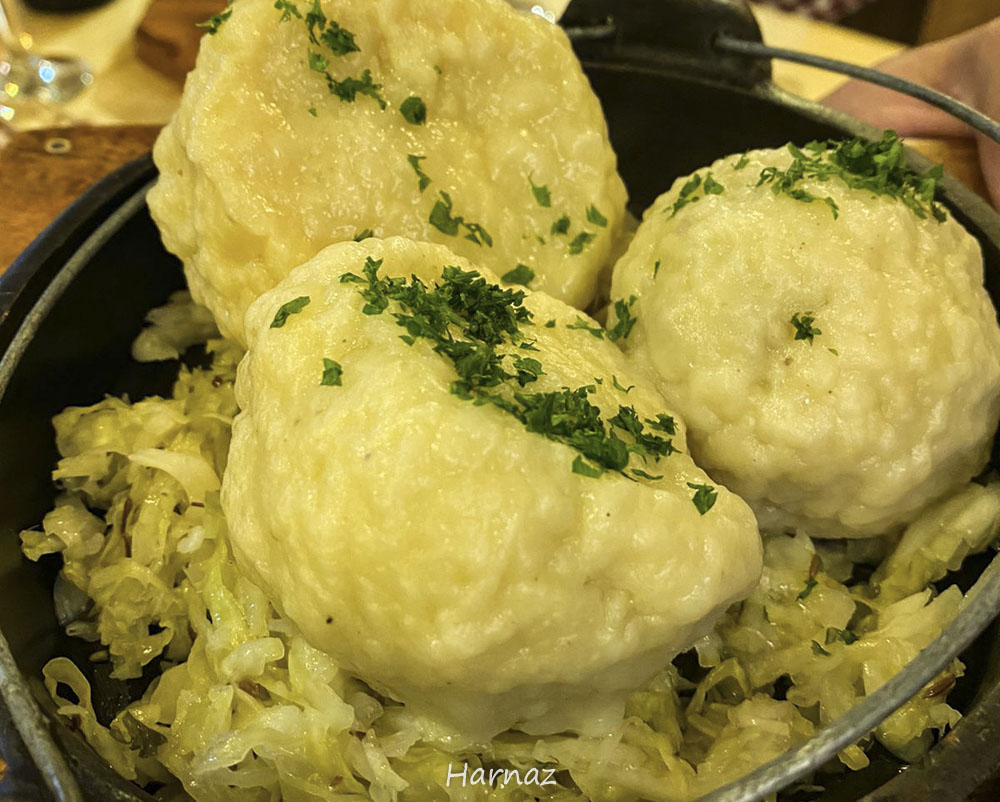 Knodel, bakso ala Jerman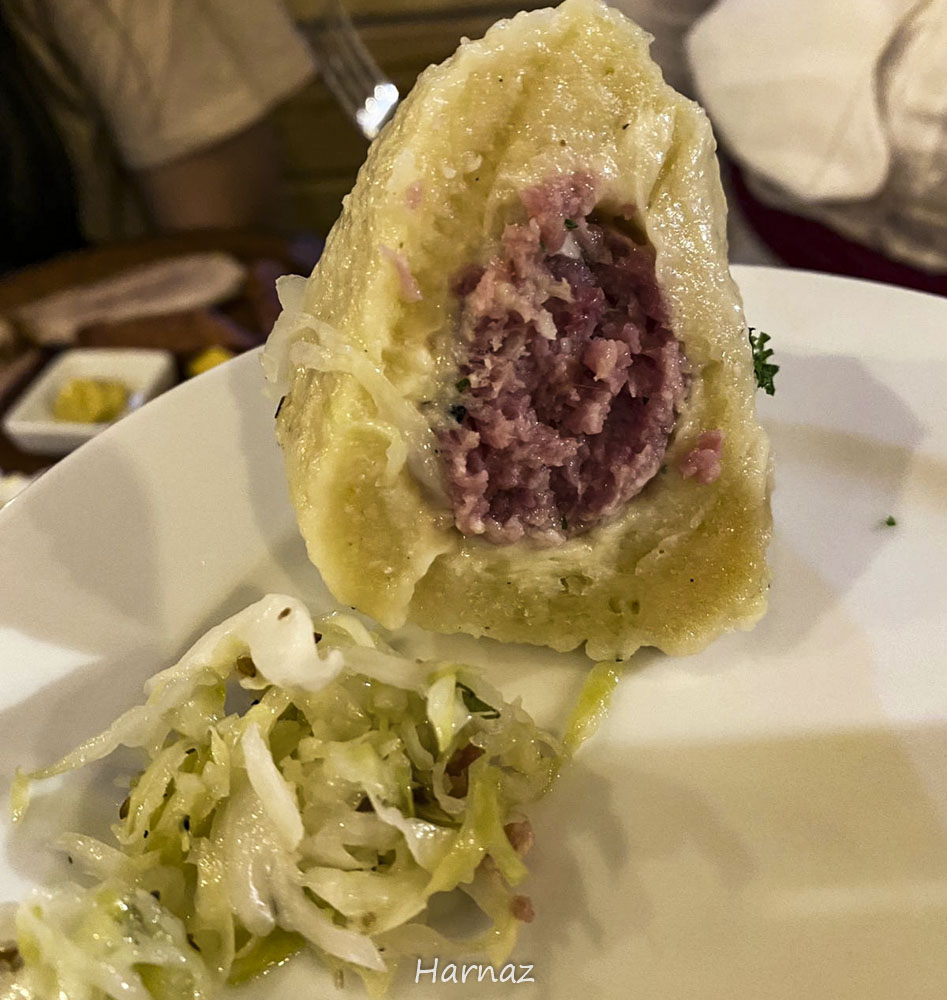 Knodel isi daging
Meskipun saya fasih berbahasa Austria, ada beberapa istilah yang asing: Schlosskäs mit Musik misalnya (keju dengan cuka). "Because I am from Frankfurt, but I live in Salzburg Austria for a long time," kata Christoph pemilik Bali Dairy yang mengobrol dengan kami. Ah, beberapa rupanya adalah makanan Frankfurt!
Waktunya makan! Pretzel yang menggantung di meja (khas Munich) langsung kami serbu: adonan yang chewy, dengan taburan kristal garam yang sedap. Brettljause hadir dengan sangat otentik! Empat macam keju, satu sosis, satu daging asap, dan seiris Schweinebraten yang sedap, lengkap dengan acar dan saus pedas "Estragon" atau Horse Radish yang rasanya mirip wasabi. Sedap! Knödelnya seperti ingatan saya di Austria: lembut dengan rasa asin-manis, pas dipadu dengan sauerkraut alias fermentasi kol khas Jerman, dengan isian gurih daging sapi. Ada juga "Schwäbischer Flammkuchen" sebuah hidangan khas Swabia (antara Munich dan Frankfurt): sebuah dough tipis krispi ditaburi irisan dadu bacon dan bawang bombay. Aih, sedap nian, persis di Jerman!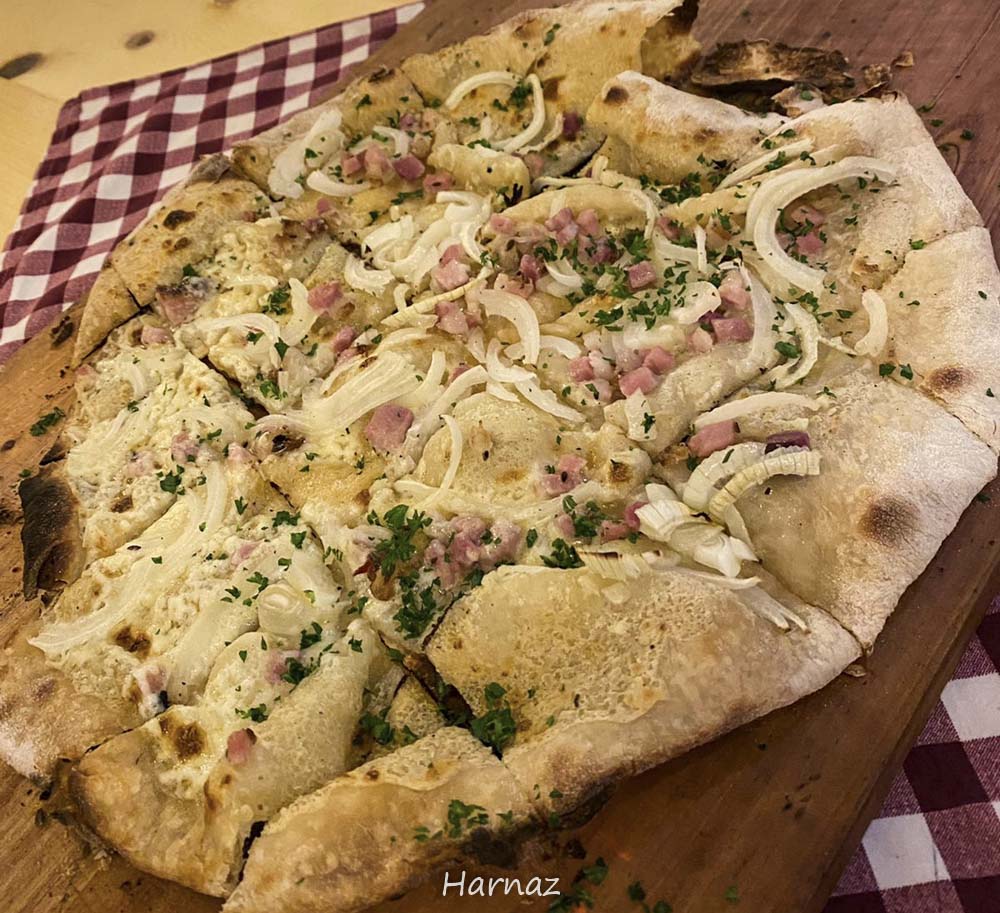 Schwäbischer Flammkuchen alias pizza Swabia
Sahabat kami membawa Grenache, wine merah terbaru dari Two Islands Bali --sebuah pendamping yang cocok untuk hidangan malam itu. Saya tak henti-hentinya takjub menikmati suasana Austria dalam ruangan ini. Rupanya, kehadiran warga dunia yang cinta Bali, membawa warna tersendiri bagi jagat kuliner Bali: lahirnya tempat-tempat seperti ini, sebuah panggilan kerinduan akan kampung halaman yang disajikan dengan sempurna sampai ke dinding dan gelasnya --serba presisi ala Jerman. Saking miripnya, saya jadi teringat Oma Loan Häussler, saudara saya di Wina yang dipanggil Tuhan akhir November 2021. Kami melakukan toast sambil berkata: Tschüß und pfüarti, Oma!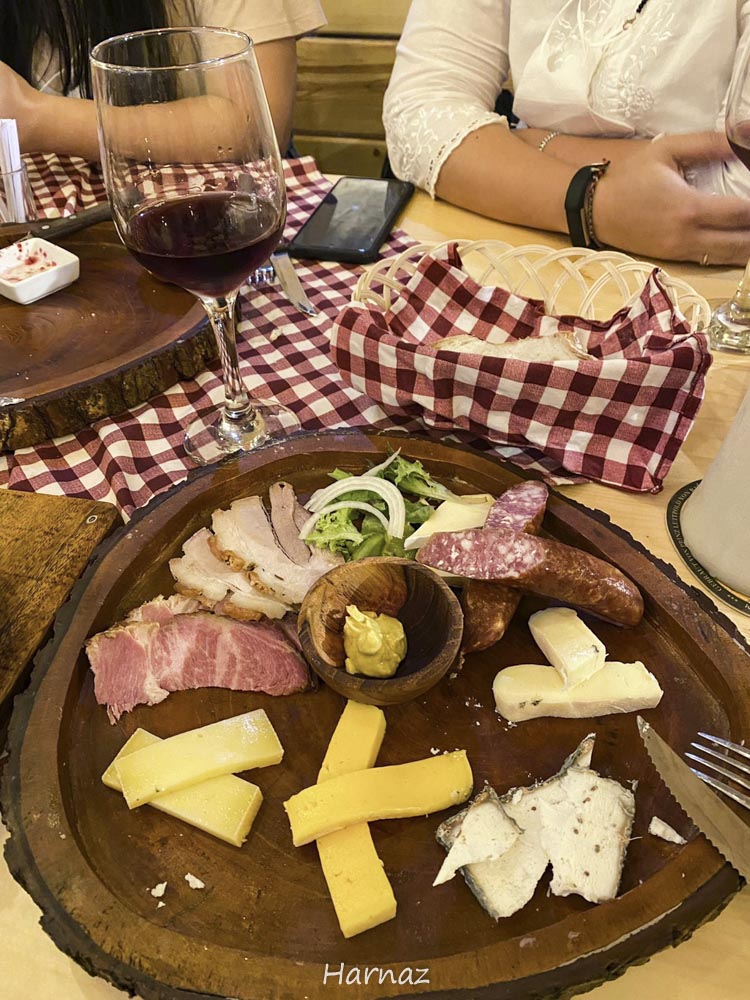 Hidangan Brettljause dengan wine
Silakan mampir jika ingin merasakan suasana Jerman yang otentik di Bali!
Kaskeller
Bali Dairy Jimbaran
Reservasi: 0812 3790 3290
Tentang penulis: Harry Nazarudin atau biasa disapa Harnaz adalah salah satu pendiri Komunitas Jalansutra, penulis kuliner yang telah menulis buku Kimia Kuliner, dan bersama Bondan Winarno (kini telah almarhum) dan Lidia Tanod menulis buku 100 Mak Nyus. Harnaz juga memiliki channel Youtube "Kimiasutra" –Menjelaskan Kimia dalam Bahasa Manusia. Buku terbarunya yang diluncurkan tanggal 25 Maret 2021 adalah Nasgor, Makanan Sejuta Mamat.