8 BULAN PANDEMI, DARI JAKARTA SUDAH MULAI ADA YANG PELESIR KE NATUNA, DERAWAN, SUMBA, LABUAN BAJO, PULAU SABU
2020-11-01 07:45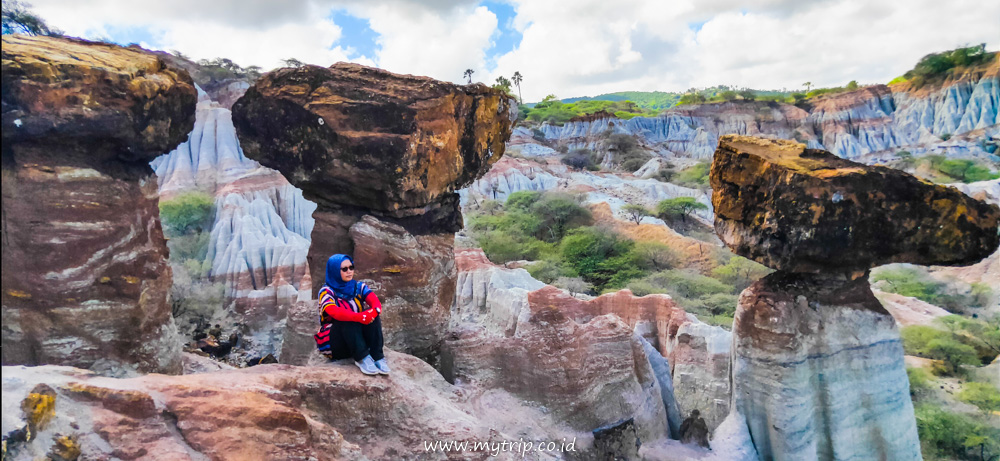 Kelabba Madja di Pulau Sabu NTT
Terlepas dari pro kontra apakah berwisata ke luar daerah, apalagi dengan naik pesawat, sudah benar-benar aman dalam masa pandemi Covid-19 yang belum juga berakhir ini, rasanya tak perlu ada penghakiman apalagi komentar nyinyir. Orang yang sehat, tak punya penyakit bawaan, tidak tinggal serumah bersama lansia, rasanya sah-sah saja kalau sudah mulai ngetrip lagi. Yang belum berani, dengan alasan masing-masing, tentu juga tak mengapa. Yang jelas, dengan adanya orang-orang yang mulai ngetrip lagi, pelan-pelan roda pariwisata bergerak lagi. Dan semoga semuanya taat pada protokol kesehatan.
By the way, wisatawan dari Jakarta yang sudah pelesiran tentu tak terbatas hanya ke tempat-tempat yang disebutkan di judul artikel ini. MyTrip hanya berpegang pada hasil wawancara online dengan 28 orang pelaku pariwisata dari hampir semua wilayah di Indonesia, yang daftarnya sebagai berikut: dari Sumatera ada 2 (Nias Sumut dan Natuna Kepri), dari Jawa juga 2 (Sukabumi Jabar dan Malang Jatim), Bali ada 1, Lombok ada 2, NTT ada 5 (Flores 2, Sumba 1, Pulau Sabu 1, Timor 1), Kalimantan ada 3 (Derawan Kaltim, Tanjung Puting Kalteng, Pontianak Kalbar), Sulawesi ada 1 (Labengki Sultra), Maluku ada 2 (Pulau Saparua dan Pulau Kei), Maluku Utara 1 dari Pulau Morotai, Papua Barat ada 9 (semuanya dari Raja Ampat dan/atau Misool), Papua ada 1 diwakili Wamena.
Dari mereka semualah MyTrip mendapatkan gambaran kondisi pariwisata di daerah-daerah tersebut berdasarkan pengalaman dan pengamatan mereka. Tiga artikel sebelumnya bisa dibaca di sini, di sini, dan di sini.
Baca juga: "Pariwisata di Era Next Normal: Yuk Kita Ramaikan Wisata Domestik Aja Dulu"
NATUNA TERBANTU KARENA ZONA HIJAU, NOL KASUS DARI AWAL HINGGA KINI
Alif Stone Park
Salah satu kabupaten terluar di Indonesia bagian barat ini mengalami dampak pandemi yang kurang lebih sama dengan daerah lain. "Jumlah tamu menurun drastis, tapi sejak diberlakukan new normal (adaptasi kebiasaan baru), saya mulai menerima tamu, sudah belasan orang, dari Jakarta dan Batam," ungkap Arief Naen (31) dari CV Graha Natuna Wisata. Ia hanya mengalami kosong sama sekali 3 bulan, Mei hingga Juli 2020.
Arief Naen, paling kiri, bersama MyTrip
"Dibandingkan sebelum pandemi, jumlah kunjungan tamu ke Natuna baru sekitar 40%. Ini karena Natuna saat ini sedang ramai-ramainya menerima kunjungan kerja dari beberapa kementerian. Selain urusan kerja, mereka mengambil paket one day tour," ceritanya. Status Natuna yang zona hijau, nol kasus Covid-19 dari awal hingga kini, menurut Naen, juga turut mendorong orang berani datang berwisata ke Natuna.
Baca juga: "100+ Destinasi Wisata Domestik yang Bisa Jadi Pilihan di Era Next Normal. Bagian 7: Sumatera"
NUSA TENGGARA TIMUR: DESTINASI POPULER SUDAH DIKUNJUNGI WISATAWAN JAKARTA
Di tulisan sebelumnya telah ditampilkan cerita dua pelaku wisata yang berbasis di Labuan Bajo Pulau Flores yang sudah mendapatkan tamu dari Jakarta, walaupun baru 1-2 kali. Demikian pula dengan Pulau Sumba dan Pulau Sabu. Ketiga destinasi ini memang sudah populer dan bahkan sedang naik daun sebelum pandemi.
Patrisius Bili Yango atau Patrys Joy (26), pemandu/supir freelance Sumba yang berbasis di Tambolaka (Sumba Barat Daya) memang belum dapat tamu sama sekali selama 8 bulan. Tapi menurut pengamatannya, tamu yang mulai masuk ke Sumba sudah ada kira-kira 10% dari kondisi normal. Dan itu tamu dari Jakarta.
Sedangkan Jnr Lavigne atau Jeje (30), penggiat pariwisata Sabu Raijua yang punya pekerjaan tetap di Dinas Komunikasi dan Informatika di daerahnya, waktu dihubungi MyTrip kebetulan sedang sibuk menangani kunjungan Gubernur NTT Viktor Laiskodat. Sejak pandemi sampai sekarang ia sudah melayani kurang lebih 3 tamu, 1 dari Bandung, 2 dari Jakarta. Tapi sebelumnya sempat tak ada tamu sama sekali selama 5 bulan.
Kelabba Madja, destinasi andalan Pulau Sabu
"Secara keseluruhan pariwisata di daerah saya lumpuh total, paling baru mencapai 2% dari situasi normal. Itu pun mayoritas hanya orang lokal Kabupaten Sabu Raijua yang berwisata. Kalaupun ada yang dari luar Sabu, hanya dari Kupang, dan biasanya tujuan utama mereka untuk menghadiri acara di Sabu, setelah itu baru meluangkan waktu untuk mengunjungi tempat wisata," jelas Jeje.
Jawaban Nuno/Hq Irenius (38), pemandu/supir freelance Pulau Timor yang berbasis di Kupang, ibu kota Provinsi NTT, kurang lebih sama. "Saya baru 5 kali melayani tamu, jumlahnya total kira-kira belasan orang, semua dari Kupang atau wilayah Timor lainnya. Sampai 4 bulan saya kosong. Kondisi wisata masih sepi," paparnya.
Nuno, paling kiri, bersama MyTrip
Fatumnasi di Pulau Timor, begitu menggoda untuk dikunjungi
DERAWAN CUKUP RAMAI LONG WEEKEND OKTOBER 2020
"Dari awal ditutupnya objek wisata sampai sekarang travel kami belum melayani tamu," jelas Yudhi Rizal (43), pemilik Tour and Travel Green Turtle. Dalam sebulan terakhir ini memang sudah ada tamu, tambahnya, "Tapi hanya tamu lokal dari Provinsi Kaltim." Yudhi memperkirakan, baru 1-3% saja tamu yang masuk ke Kepulauan Derawan, Kalimantan Timur, jika dibandingkan kondisi normal.
Ubur-ubur tak bersengat di Pulau Kakaban, Kepulauan Derawan
"Kami sangat terdampak sekali. Tapi Alhamdulillah menjelang libur panjang long weekend minggu ini (akhir Oktober 2020 –red.) resor-resor di Pulau Derawan, Pulau Maratua dan Biduk Biduk banyak yang sudah dibuking tamu. Memang masih didominasi tamu asal Kaltim, tapi dari luar Kalimantan, khususnya Jakarta juga sudah ada. Artinya wisatawan sudah mulai banyak." Syukurlah….
SUARA OPTIMISME DARI KALBAR
Mimi (39) dari Yok Kita Jelajah Khatulistiwa yang berbasis di Pontianak Kalbar sejak pandemi sampai sekarang baru sekali melayani wisatawan dan hanya satu grup lokal Kota Pontianak sejumlah 60 orang tanggal 17 Oktober 2020 lalu. "Dan 4 orang berikutnya minggu depan, juga tamu lokal. Jadi kami kosong 6 bulan. Tamu dari luar Pulau Kalimantan belum ada sama sekali," tuturnya.
Replika Tugu Katulistiwa di Alun-alun Sungai Kapuas, Pontianak
Namun Mimi merasa pariwisata Kalbar sudah mulai bangkit kembali meskipun baru ada kunjungan dari wilayah Kalbar saja. Ia menyuarakan optimismenya, apalagi saat ini ia sedang berkolaborasi dengan Dinas Pariwisata Provinsi Kalimantan Barat dan FAJI (Federasi Arung Jeram Indonesia) Kalbar untuk meluncurkan paket tur berbasis minat khusus yakni arung jeram pada tanggal 31 Oktober 2020 di Kabupaten Bengkayang. Menyusul juga ada peluncuran paket wisata Pontianak Heritage bekerja sama dengan Perum DAMRI. "Semoga dengan diluncurkannya paket-paket tur tersebut, jumlah wisatawan yang berkunjung ke Kalbar mulai meningkat lagi," harapnya.
BAGAIMANA KONDISI DI PULAU JAWA?
Walaupun pastinya terdampak tak kalah serius, tapi tampaknya pariwisata di Pulau Jawa diperkirakan akan lebih cepat bangkit karena warganya bisa berwisata antardaerah dengan kendaraan sendiri, objek-objek wisatanya juga banyak yang mudah diakses. Contohnya Randy Ramdhany (32), freelance guide untuk wilayah Jabar, Banten, Jateng yang berbasis di Sukabumi Jawa Barat, ia sudah membawa 3 grup dari Jakarta dan Bandung. "Satu grup ke Citorek di Lebak Banten. Dua grup lagi ke Geopark Ciletuh di Sukabumi. Tapi itu pun baru sebulan terakhir. Sempat kosong 7 bulan," ceritanya. Ditambahkannya, setelah liburan Idul Adha akhir Juli lalu sudah lumayan banyak wisatawan masuk ke daerah Sukabumi, walaupun setelah itu agak sepi lagi."
Randy Ramdhani, kiri belakang, bersama rombongan MyTrip di Curug Cikanteh, Geopark Ciletuh
Sedangkan Titin Titra (48), pemilik SunRise Travel Mountain yang berbasis di Malang Jawa Timur belum mendapatkan tamu sama sekali, kosong 7 bulan. Tapi sepengamatannya, wisatawan yang masuk ke Malang sudah ada walaupun kurang dari 10% dibanding situasi normal, dan masih didominasi tamu dari Jawa Timur. "Sudah mulai ada tamu lokal yang bepergian hanya dengan keluarga atau komunitas kecil dengan kendaraan pribadi," ujarnya.
Pantai Goa Cina, salah satu andalan Kabupaten Malang