VISITA IGLESIA, FESTIVAL PRAPASKAH 2021 DI KOTA ILOILO FILIPINA
2021-03-30 19:05
Miag-ao Fortress Church, gereja di Iloilo yang menjadi Situs Warisan Dunia UNESCO
Fiesta Filipinas kembali hadir secara virtual, kali ini menampilkan festival Katolik di Filipina yang dikemas sebagai pengalaman budaya yang multisensori. Melalui platform digital Department of Foreign Affairs (DFA) Philippines, perayaan virtual ke-4 Fiesta Filipinas yaitu Visita Iglesia disiarkan langsung dari Kota Iloilo di Filipina pada Sabtu, 27 Maret 2021, pkl.15.00 WIB melalui akun facebook.com/DFAPHL dan youtube.com/DFAPHL.
Visita Iglesia dirayakan dalam masa PraPaskah dan merupakan penanda dimulainya Holy Week atau Pekan Suci menjelang Minggu Palma. Dalam 2 hari yaitu Kamis Putih dan Jumat Agung, orang Filipina menjalani tradisi Visita Iglesia, atau kunjungan tujuh gereja. Tradisi tahunan ini dibawa dan diperkenalkan oleh misionaris Augustinian pada tahun 1560-an.
Tetapi dengan pergerakan terbatas di Filipina karena COVID-19, untuk pertama kalinya sejak Perang Dunia II, Filipina menangguhkan prosesi Pekan Suci umat Katolik yang menandakan dimulainya festival pada hari Minggu dengan berdoa di rumah dan bergabung dalam misa online.
Tradisi perayaan Katolik telah mengakar kuat di negara dengan populasi 108 juta penduduk, yang 80%-nya merupakan pemeluk agama Katolik Roma, menjadikan negara ini memiliki populasi Katolik terbesar di Asia dan terbesar ketiga di dunia setelah Brazil dan Meksiko.
Dalam Fiesta Filipinas kali ini Visita Iglesia dirayakan di Kota Iloilo di Kepulauan Visayas. Iloilo adalah rumah bagi salah satu dari empat gereja tipe Barok yang disebut oleh UNESCO sebagai harta budaya nasional Filipina, Gereja Paroki Santo Tomas de Villanueva, juga dikenal sebagai Gereja Miag-ao. Melalui Visita Iglesia atau Kunjungan Gereja dalam Fiesta Filipinas, bisitas (pengunjung) memiliki kesempatan untuk secara virtual mengagumi keindahan arsitektur gereja, melihat Kota Iloilo yang berkembang pesat, dan menemukan perjalanan negara menuju pembangunan bangsa dan warisannya yang kaya.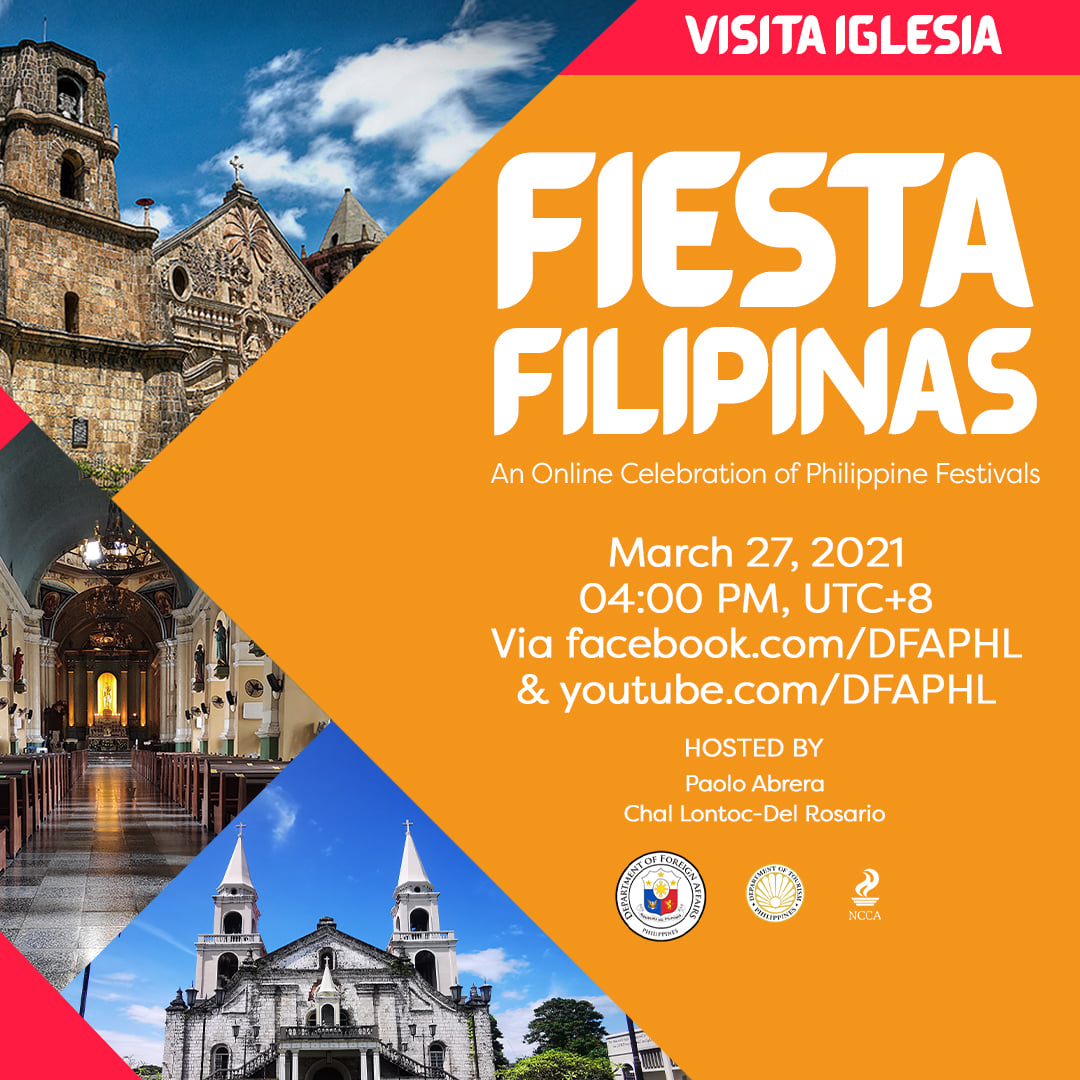 Proyek "Fiesta Filipinas: An Online Celebration of Philippine Festivals" adalah rangkaian acara online enam bagian dan multi-format dari Desember 2020 hingga Mei 2021, yang mensimulasikan pengalaman festival melalui kombinasi video langsung dan pra-rekaman serta lokakarya dan aktivitas langsung. Fiesta Filipinas diselenggarakan oleh Departemen Luar Negeri Filipina dan Kedutaan Besar Filipina, Jakarta, bekerja sama dengan Departemen Pariwisata dan Komisi Nasional Kebudayaan dan Seni. Proyek ini bertujuan untuk memperkenalkan dan menampilkan festival, budaya, dan tradisi Filipina kepada audiens global dan mengundang mereka ke Filipina ketika kondisinya sudah lebih mendukung.
Selain Visita Iglesia, Fiesta Filipinas telah menghadirkan tiga perayaan yakni Festival Panagbenga pada tanggal 27 Februari 2021, Festival Sinulog, Ati-atihan, Dinagyang pada tanggal 20 Februari 2021 dan Festival Giant Lantern pada tanggal 19 Desember 2020. Melalui festival, Filipina memperkenalkan pesta budaya mereka dan sebagai cara untuk membawa semangat perayaan khas Filipina lebih dekat ke hati warga lokal maupun wisatawan mancanegara, tanpa terhambat batasan karena pandemi.
Sebagai bagian dari promosi Visita Iglesia, PDOT Indonesia mewawancarai Ms. Mary Grace Melendres, Presiden Cebu Assistance of Tour Guides, Inc., dan Board of Trustee Philippine Federation of Tour Guides di akun Instagram PDOT_Indonesia pada hari Kamis, 25 Maret 2021, pkl.15.00 WIB. Selain itu, melalui akun Facebook dan Instagram, PDOT Indonesia membagikan pengalaman multisensori Fiesta Filipinas dalam bentuk kotak perlengkapan 'Fiesta Filipinas Kit' kepada 20 peserta yang beruntung dari seluruh Indonesia. Perlengkapan tersebut berisi makanan dan minuman khas, cinderamata khas serta rangkaian kipas yang mendukung keseruan mengikuti perayaan Visita Iglesia.
Rangkaian Acara Fiesta Filipinas secara virtual dimulai dengan perayaan Natal di Filipina, dengan Festival Giant Lantern (19 Desember), diikuti oleh Festival Sinulog, Ati-Atihan, dan Dinagyang (20 Februari 2021), Festival Panagbenga (27 Februari 2021), Visita Iglesia (27 Maret 2021), Festival Lami Lamihan (24 April 2021), lalu diakhiri dengan Flores De Mayo/ Santacruzan (29 Mei 2021).