MARI MENGENAL KAPEL SILENT NIGHT, TEMPAT LAGU MALAM KUDUS PERTAMA KALI DIKUMANDANGKAN
2020-12-28 12:40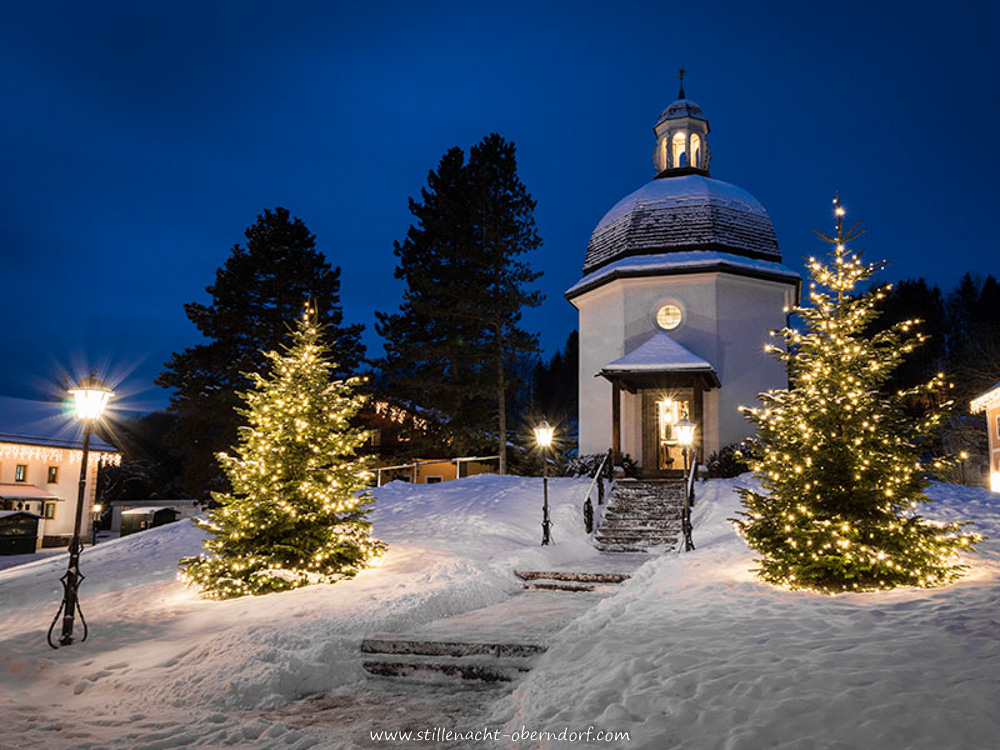 Stille Nacht Kapelle
Di tengah suasana Natal di bulan Desember tiap tahunnya, kita pasti sering mendengar lagu Silent Night atau Malam Kudus. Lagu dengan judul asli bahasa Jerman Stille Nacht,Heilige Nacht ini merupakan lagu Natal yang paling banyak dinyanyikan (dalam lebih dari 300 bahasa) di seluruh dunia. Maka tak heran, lagu gubahan komposer Franz Xaver Gruber dan liriknya ditulis oleh Father Joseph Mohr ini ditetapkan oleh UNESCO pada tahun 2011 sebagai Intangible Cultural Heritage.
Patung Franz Xaver Gruber dan Father Josef Mohr di depan Stille Nacht Kapelle
Lagu Silent Night (Stille Nacht) pertama kali dikumandangkan di Gereja St. Nicholas (St. Nikola Kirche) yang terletak di Kota Oberndorf bei Salzburg, Austria. Saat itu Father Joseph Mohr membuat puisi dan meminta komposer Franz Xaver Gruber membuat melodi lagu dari puisi itu lalu memainkannya dengan gitar pada misa malam Natal 24 Desember 1818. Saat itu organ gereja rusak dan tidak bisa digunakan karena diterpa banjir. Gereja St. Nicholas memang berulang kali rusak akibat banjir Sungai Salzach (terutama banjir bandang tahun 1899). Akhirnya bangunan gereja menjadi sulit untuk diperbaiki sehingga diputuskan pada tahun 1906 untuk dipindahkan ke tengah kota, bukan di tepi sungai seperti posisi awalnya. Sisa-sisa gereja dihancurkan pada tahun 1913 dan hanya ditinggalkan sedikit puing untuk penanda bahwa di sana ada bekas bangunan Gereja St.Nicholas.
Reruntuhan Gereja St. Nicolas, tempat pertama kali lagu Stille Nacht di kumandangkan pada malam Natal 24 Desember 1818
Naskah asli lagu Stille Nacht
Pada tahun 1916 Kota Oberndorf dibagi dua sesuai keputusan Congress of Vienna pasca perang Napoleon. Dengan dibatasi Sungai Salzach, Kota Oberndorf dibagi menjadi kota Oberndorf bei Salzburg bagian dari negara Austria dan Kota Laufen yang menjadi bagian dari negara Jerman.
Kota Laufen di seberang Sungai Salzach
Tahun 1918 dilangsungkan peringatan 100 tahun lagu Stille Nacht, walaupun masih dalam keadaan sulit akibat Perang Dunia I. Masyarakat Oberndorf tetap ingin memberi penghormatan bagi komposer Gruber dan Mohr, sebagai pembawa pesan perdamaian.
Baca juga: "Top 9 Hallstatt Atractions"
Akhirnya pada tahun 1924 mulailah konstruksi kapel memorial dibangun di bekas tempat Gereja St.Nicholas. Pembangunan kapel sangat sulit diselesaikan karena berbagai macam isu politik dan kondisi kesulitan ekonomi pasca Perang Dunia I. Kapel akhirnya baru selesai dibangun pada Agustus 1937. Sejak saat itu kapel ini menjadi semacam simbol nyata lagu Silent Night. Setiap hari Natal ribuan pengunjung datang ke kapel ini dan Museum Stille Nacht di sampingnya. Setiap pukul 5 sore pada tanggal 24 Desember, misa memorial dilakukan di kapel kecil ini dan pengunjung akan mendengar lagu Stille Nacht dikumandangkan dalam berbagai bahasa.
Tampak luar kapelnya
Mencari kapel ini tidak terlalu sulit, jaraknya tidak terlalu jauh (hanya 17 km) dari kota Salzburg, Austria. Kita dapat mencapai kapel ini dengan transportasi umum dari pusat kota Salzburg dalam waktu kurang dari satu jam. Jika membawa kendaraan pribadi, kita dengan mudah akan menemukan berbagai petunjuk menuju kapel. Selain itu terdapat banyak tempat parkir yang jaraknya tidak terlalu jauh dari kapel.
Kapelnya sendiri hanya terdiri dari altar dan dua deret bangku. Di sebelah kiri kanan altar terdapat gambar mozaik kaca dari Franz Gruber dan Father Joseph Mohr. Untuk berkunjung ke dalam Kapel Stille Nacht tidak dipungut bayaran. Jangan lupa mengisi buku tamu di dekat pintu masuk kapel ya.
Altar di dalam kapel dengan lingkaran adven di atasnya
Mozaik kaca di dalam kapel bergambar Father Josef Mohr pencipta lirik lagu Stille Nacht
Mozaik kaca komposer lagu Stille Nacht, Franz Xaver Gruber dengan gitarnya
Jangan lupa mengisi buku tamu di dekat pintu masuk kapel untuk kenang-kenangan
Di akhir bulan November hingga Desember di sekitar kapel ada Christmas Market kecil di mana kita dapat membeli makanan dan minuman khas Austria. Selain mengunjungi kapel, kita dapat berkeliling sekitar kapel. Di dekat kapel terdapat Sungai Salzach. Seberang Sungai Salzach adalah pecahan Kota Oberndorf yang termasuk wilayah Jerman, yakni Kota Laufen. Dulu Sungai Salzach sangat ramai dan padat dengan penambang garam. Hingga abad ke-19 kapal pengangkut garam dari pertambangan banyak melewati Sungai Salzach yang menjadi perbatasan Jerman dan Austria ini.
Christmas Market kecil di sekeliling kapel
Jika ingin tahu lebih dalam tentang sejarah Kapel Stille Nacht dan Kota Oberndorf, kita dapat mengunjungi Stille Nacht Museum. Tiket masuk museum EUR 4,5 (dewasa) dan EUR 3 (anak-anak 6-15 tahun). Selain itu juga ada tiket diskon untuk keluarga (2 orang dewasa dan 2 anak-anak) serta rombongan. Silakan cek di www.stillenacht-oberndorf.com.
Museum Stille Nacht. Terdapat toko suvenir di lantai dasar museum
Gambaran suasana kamar tidur Father Josef Mohr di lantai dua museum
Di dalam Museum Stille Nacht banyak terdapat rekaman suara asli penduduk Oberndorf dan diterjemahkan dalam bahasa Inggris
Museum ini terdiri dari 3 lantai dan uniknya, di dalam museum kita dapat merekam suara kita bernyanyi Stille Nacht dalam bahasa masing-masing yang hasil rekamannya dikirim lewat e-mail. Nah… seru 'kan…
Kita dapat merekam suara kita bernyanyi lagu Stille Nacht di dalam museum
Selamat Natal dan Tahun Baru 2021 ya… Semoga tahun depan kita bisa bebas jalan-jalan lagi… Just pack and go!