JANGAN LEBAY YA…. 59 NEGARA TOLAK MASUK WNA TERMASUK WNI ITU BERITA BULAN MARET 2020!!!
2020-09-12 14:20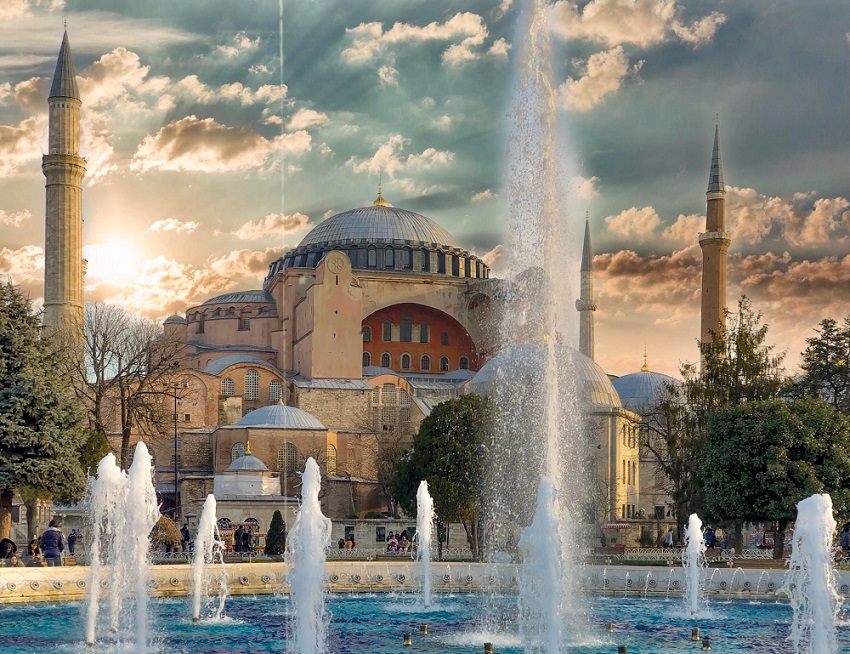 Turki sudah membolehkan wisatawan WNI datang berkunjung
Semingguan terakhir viral berita tentang 59 negara yang katanya melarang WNI masuk negaranya terkait kasus Covid-19. Berita menyebar dalam bentuk link situs berita mainstream sampai yang abal-abal, flyer yang disebar di WhatsApp Group, juga video-video di Youtube. Disertai bumbu-bumbu lebay, yang katanya memalukan lah, ada yang salah lah dengan penangan Covid-19, sampai ada oknum politikus oportunis yang seperti biasa koar-koar main tuding. Istana, dalam hal ini diwakili KSP (Kantor Staf Presiden), dan Kemenlu pun sampai dimintai responsnya oleh media.
PADAHAL YA GAESSS, ITU BERITA MARET 2020, yang entah oleh siapa dan apa maksudnya diviralkan lagi!
Jadi ya…. Awalnya tanggal 17 Maret 2020 akun Instagram @safetravel.kemlu pada tanggal 17 Maret 2020 mengunggah daftar negara yang melarang WNA, termasuk WNI, masuk ke negaranya, dalam upaya menekan laju penyebaran virus corona. Saat itu memang, tepatnya per 16 Maret 2020 menurut data WHO (World Health Organization) sudah ada 151 negara terjangkit virus corona. Jadi tentunya wajar jika banyak negara mengeluarkan kebijakan serupa, melarang warga asing masuk ke negaranya. Indonesia pun memberlakukan kebijakan yang sama. Kemenlu saat itu juga mengimbau masyarakat agar membatasi perjalanan ke luar negeri, dan yang masih berada di luar negeri agar segera pulang sebelum mengalami kesulitan penerbangan kembali ke tanah air.
Lalu Kompas.com tanggal 20 Maret 2020 menuliskan judul berita "Daftar 59 Negara yang Melarang Masuk WNA dan WNI Terkait Virus Corona" berdasarkan data dari @safetravel.kemlu tersebut. Karena saat itu pandemi Covid-19 memang baru sedang heboh-hebohnya melanda banyak negara, berita itu ditanggapi biasa-biasa saja. Karena sependek ingatan dan sepengetahuan saya, sebagian besar warga masyarakat saat itu memang nggak kepikiran untuk dolan-dolan ke luar negeri.
Baca juga: "13 Tips Traveling di Era New Normal. Yuk Disimak…"
Apa momentum yang membuat berita lawas itu menjadi viral dengan bumbu-bumbu dramatis bin lebay? Tanggal 1 September 2020 beredar berita Malaysia melarang masuk ke negaranya seluruh kategori individu termasuk pemegang visa jangka panjang dari 23 negara termasuk Indonesia, India, Filipina, Amerika Serikat, Brazil, Rusia serta beberapa negara lainnya yang kasus Covid-19-nya di atas 150.000. Larangan ini berlaku mulai 7 September 2020.
Nah, momentum itulah yang dipakai pihak tertentu untuk mengembuskan lagi berita basi pertengahan Maret 2020 itu. Dan seperti biasa, sayangnya, banyak netizen +62 yang memakan umpan itu mentah-mentah. Main viralkan aja. Dan karena kebanyakan ingatan kita pendek, sebagian besar kita lupa itu berita basi. Apalagi berduyun-duyun portal berita termasuk yang mainstream memberitakan lagi dengan judul bombastis demi banyak-banyakan klik. Miriiissss…..
Uni Emirat Arab lewat KBRI Abu Dhabi menegaskan tidak ada larangan masuk bagi WNI
Padahal kenyataannya, daftar 59 negara itu sudah nggak valid. Sedikitnya, yang berita resminya sampai ke tangan MyTrip, ada dua negara yang membantah, yakni Turki lewat pernyataan resmi Kedutaannya di Jakarta dan Uni Emirat Arab (lewat pengumuman dari KBRI Abu Dhabi). Salah satu kalimat yang ada di rilis resmi Kedutaan Turki adalah: Our Indonesian friends are free to visit Turkey provided that they meet the visa requirements.
Baca juga: "Panduan Cerdas Eksplor Turki"
Mau bukti nyata? Kebetulan tanggal 11 September 2020 rekanan MyTrip yakni Touress Online DMC memberangkatkan grup tur ke Turki. Nggak perlu rapid test ataupun PCR, hanya persyaratan e-visa seperti biasa.
Grup tur ke Turki yang baru berangkat 11 September 2020
Oke, mungkin ada yang bersikeras, tapi tetap saja beberapa negara masih melarang warga Indonesia masuk ke negaranya karena kasus covid kita memang tinggi. Oh well memang. Menurut Kompas.com tanggal 7 September 2020, selain Malaysia, ada juga Jepang, Arab Saudi, Australia, dan Brunei Darussalam yang melarang semua negara atau semua WNA masuk ke negaranya. Catat ya! SEMUA, bukan hanya Indonesia.
Jadi nggak usah lebay dan sok-sok panik gitu deh, gaesss….. Mengutip twitnya Rudi Valinka @Kurawa: "Emangnya kalo gak dilarang juga lo pada mau jalan2 ke negara orang? Ke Bogor aja lo udah Takut"
Wkwkwkwkwk……