ANEKA ATRAKSI GRATIS DI LAS VEGAS
2019-12-22 00:00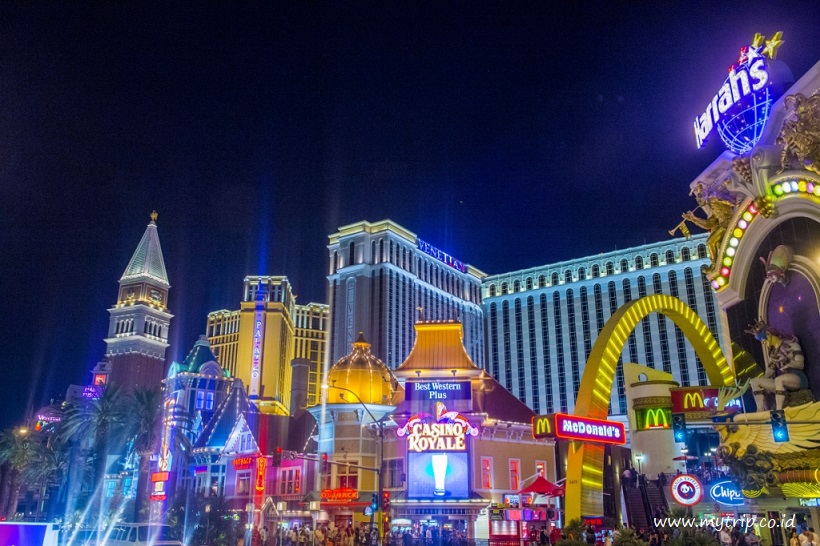 Ini adalah kota judi di tengah gurun di West Coast USA. Dari atas pesawat menjelang mendarat tampak gurun di mana-mana dan saat tiba di bandara disambut sederetan mesin dingdong yang dapat kita mainkan dengan uang USD 1 saja. Di kawasan The Strip tawaran jasa wanita penghibur begitu terbuka. Tapi apakah Las Vegas cuma itu? Jawabannya, tidak. Vegas juga punya banyak atraksi yang cocok untuk liburan keluarga, gratis pula! Vegas juga adalah kota yang paling strategis untuk memulai perjalanan ke Grand Canyon National Park.
Tentang Grand Canyon National Park baca di artikel selanjutanya.
VOLCANO SHOW
Atraksi di depan Mirage Hotel yang menggambarkan letusan gunung ini adalah tontonan gratis di sore dan malam hari. Pantengin aja pukul 19.00, 20.00, 21.00.
Volcano Show di depan Mirage Hotel
BELLAGIO FOUNTAIN
Bellagio Hotel & Casino
Atraksi musik dan air mancur yang terletak di depan Bellagio Hotel ini dapat kita tonton gratis. Pertunjukan berlangsung setiap 30 menit dalam rentang pukul 15.00-20.00; dan setiap 15 menit dalam rentang pukul 20.00 sampai tengah malam, Senin-Jumat. Sedangkan pada hari Minggu setiap 30 menit antara pukul 11.00-19.00; kemudian dari pukul 19.00 setiap 15 menit sampai tengah malam. Pada hari Sabtu dan hari libur pertunjukan setiap 30 menit saat siang dan setiap 15 menit mulai pukul 20.00 sampai tengah malam.
GONDOLA VENETIAN
Mencoba naik gondola seperti di Venesia dapat dilakukan di Venetian Hotel. Gondola tersedia outdoor dan indoor, dapat dinikmati dengan membayar USD 29/ orang untuk Shared Gondola (4 orang per gondola) atau USD 119 untuk Private Gondola.
Naik gondola di Venetian Las Vegas
Jam buka:
Indoor: 10.00-23.00 (Minggu-Kamis), 10.00-24.00 (Jumat-Sabtu).
Outdoor: 11.00-22.00 (setiap hari).
Baca juga: "24 Jam di Washington, D.C. Bisa Ngapain Aja?"
SECRET GARDEN & DOLPHIN HABITAT
Di taman ini terdapat koleksi macan dan lumba-lumba. Macannya umumnya terlihat tidur di kandang sedangkan lumba-lumbanya berenang di kolam renang sambil main bola. Jika kita ingin bermain dengan lumba-lumba juga ada atraksi seperti melukis bersama lumba-lumba. Adanya hewan-hewan ini di The Strip yang merupakan deretan hotel kasino, memberi suasana yang berbeda.
Lokasi: Di dalam Mirage Hotel
Tiket masuk: USD 22 dan untuk atraksi lumba-lumba lainnya dapat dilihat di www.mirage.com/en/amenities/siegfried-roys-secret-garden-and-dolphin-habitat.html
Tips demi keamanan:
- Jangan sembarangan mengiyakan ajakan atau tawaran orang asing.
- Jangan keluyuran di atas jam 10 atau 11 malam.