INI 5 SPOT DI TELUK KABUI RAJA AMPAT YANG HARUS DILIHAT
2019-06-26 00:00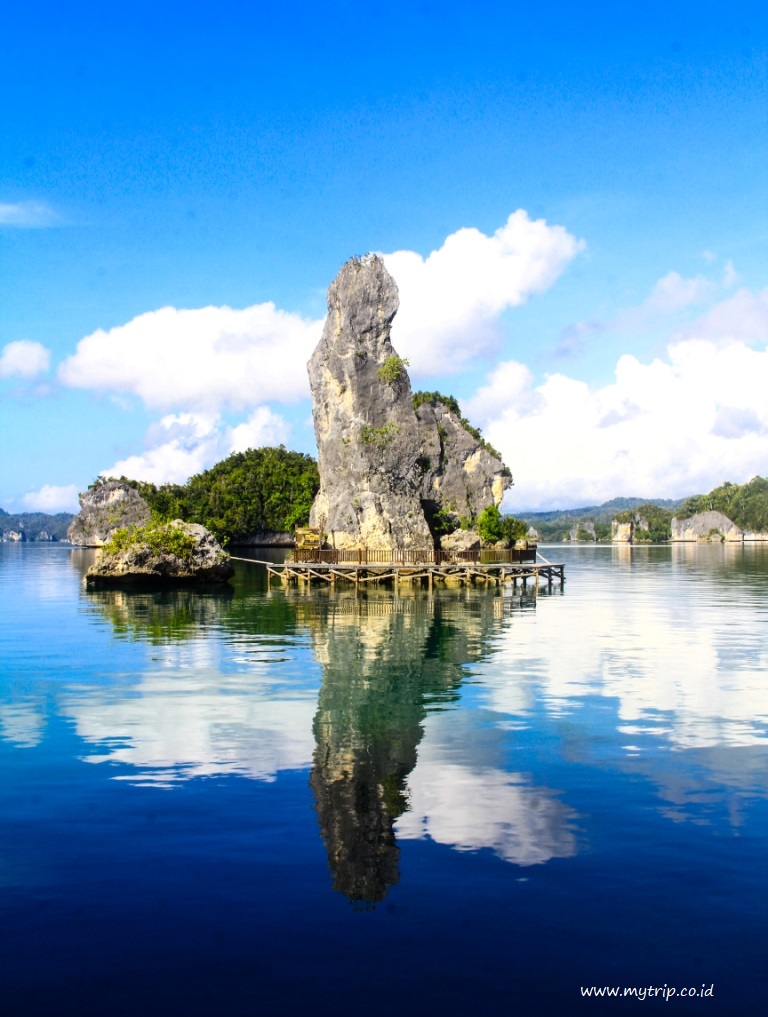 Cantiknya Batu Pensil di Teluk Kabui
Teluk Kabui memang bukan spot baru di Raja Ampat, Papua Barat. Dari dulu orang-orang ngetrip ke Raja Ampat hampir pasti ke Teluk Kabui. Dengan homebase di Kota Waisai (ibu kota Raja Ampat, di Pulau Waigeo, pulau terbesar di Raja Ampat) atau di sepanjang pesisir Pantai Waiwo di Pulau Waigeo juga, mudah sekali menjangkau Teluk Kabui dengan speedboat, tak sampai 1 jam. Tapi baik yang sudah datang ke Teluk Kabui maupun yang belum, masih banyak yang belum paham, sebenarnya apa aja sih yang bisa dilihat di teluk yang berada di antara Pulau Waigeo dan Pulau Gam ini? Simak yang berikut ya...
Baca juga: "Panduan Cerdas Eksplor Raja Ampat"
1. BATU PENSIL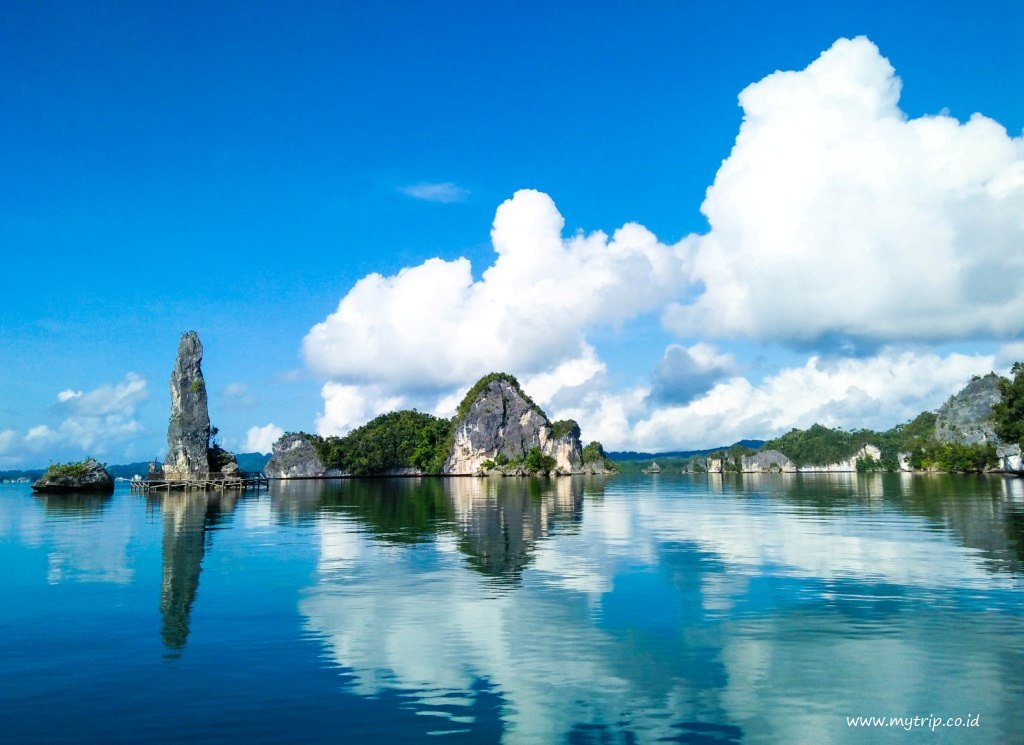 Inilah ikon Teluk Kabui. Batu karst runcing setinggi kurang lebih 12 meter ini bentuknya memang seperti ujung pensil. Hampir semua rombongan trip Raja Ampat mampir ke Batu Pensil saat mengeksplor Teluk Kabui.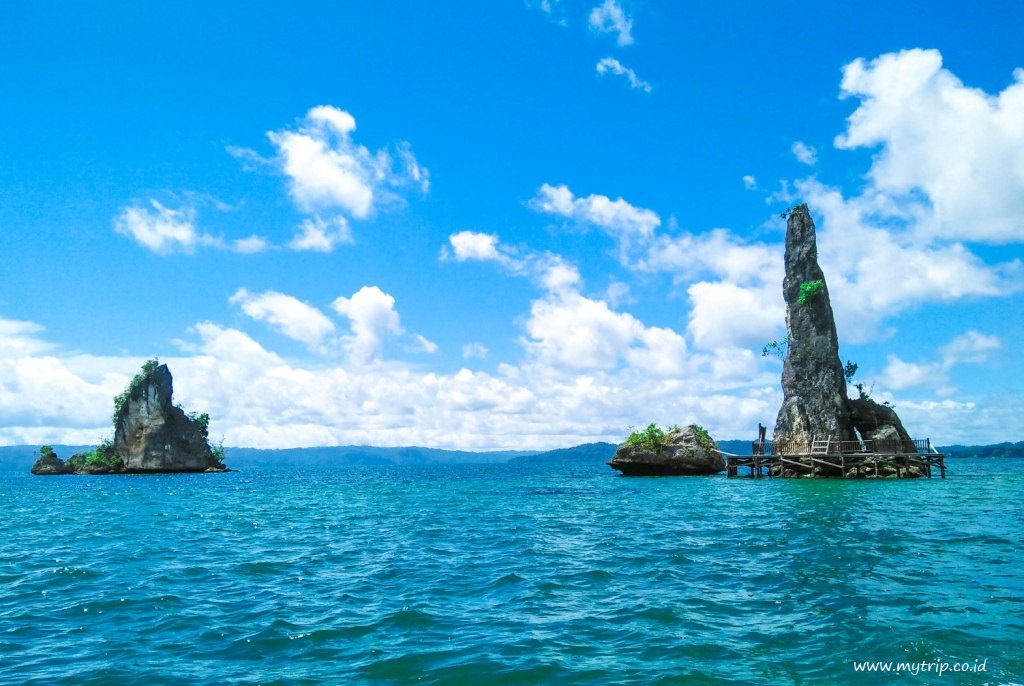 Dulu saat belum dibangun anjungan kayu persis di bawah batunya, wisatawan biasanya hanya berpose di ujung speedboat dengan latar Batu Pensil ini.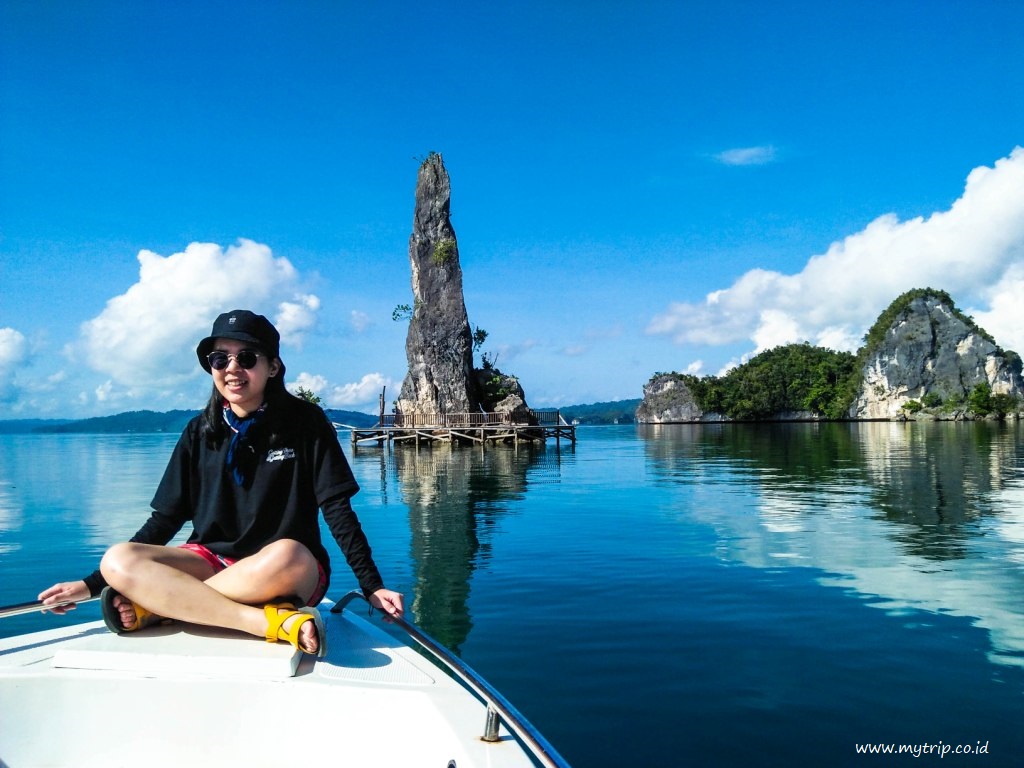 Berpose dari atas speedboat dengan latar Batu Pensil
Sejak sekitar tahun 2017 sudah dibangun anjungan di bawah Batu Pensil maupun di Batu Wajah yang ada di seberangnya, jadi speedboat bisa merapat. Dan sejak itulah kawasan Teluk Kabui khususnya Batu Pensil menjadi berbayar, per speedboat Rp300.000. Tak perlu menghampiri Pos Retribusi yang berada tak jauh dari Batu Pensil, soalnya petugas pasti akan menghampiri dengan speedboatnya begitu melihat ada speedboat merapat. Bayar saja langsung kepada petugas tersebut.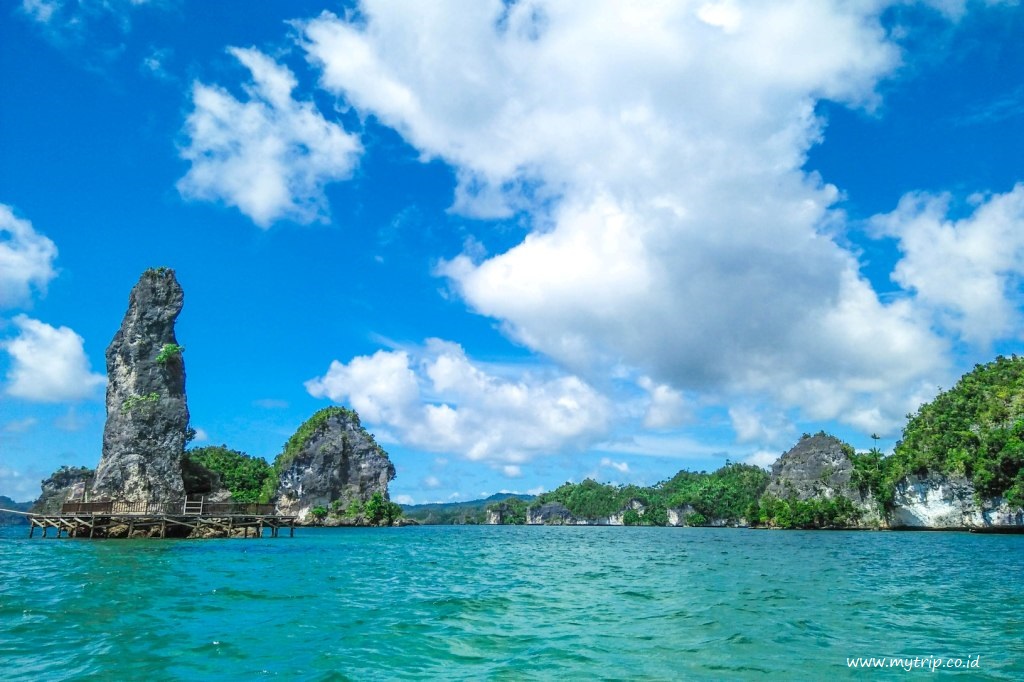 Sudah ada anjungan kayu di Batu Pensil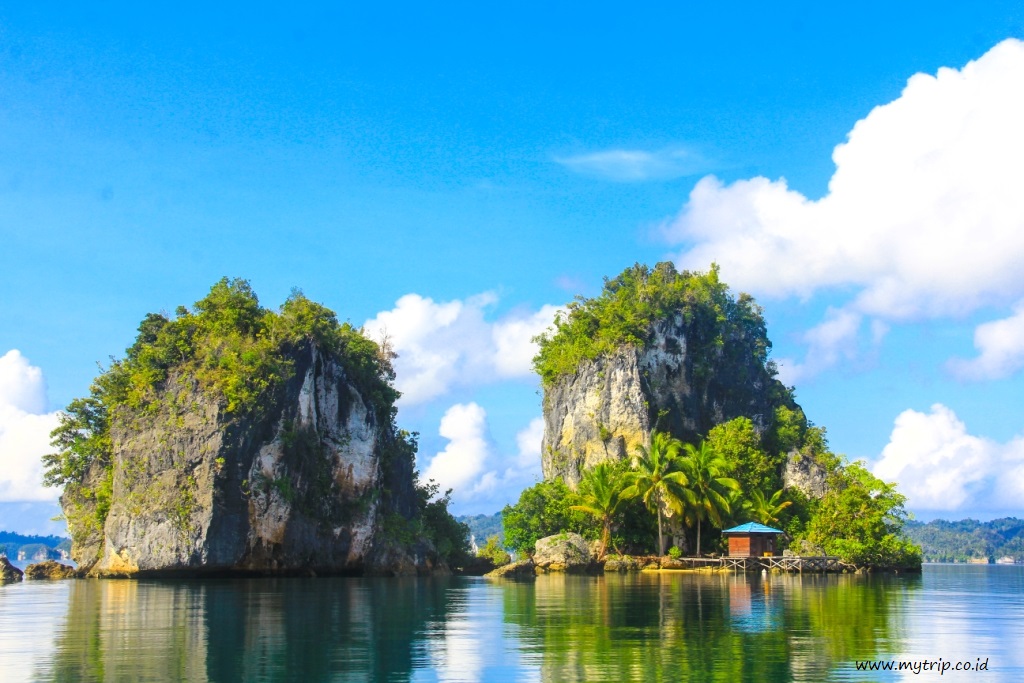 Pos Retribusi
2. BATU WAJAH
Kalau nggak dikasih tahu pemandu lokal atau motorist speedboat yang membawa kita, pasti kita nggak ngeh kalau batu di seberang Batu Pensil berbentuk seperti wajah orang dengan hidung mancung tampak dari samping. Malah ada juga yang menyebutkan, batu di seberangnya juga mirip wajah orang dari samping, jadi seolah-olah ada dua orang saling berhadapan.
Batu Wajah berhadap-hadapan
Di bawah Batu Wajah sudah dibangun anjungan kayu. Dari sini kita bisa memotret Batu Pensil dengan leluasa. Kalau pemandu Anda membawa bekal teh kopi, buah dan camilan, bisa dibuka dan dimakan di sini sambil bersantai mengagumi keindahan di sekitar. Tapi jangan lupa untuk berbagi tempat dengan wisatawan lain ya...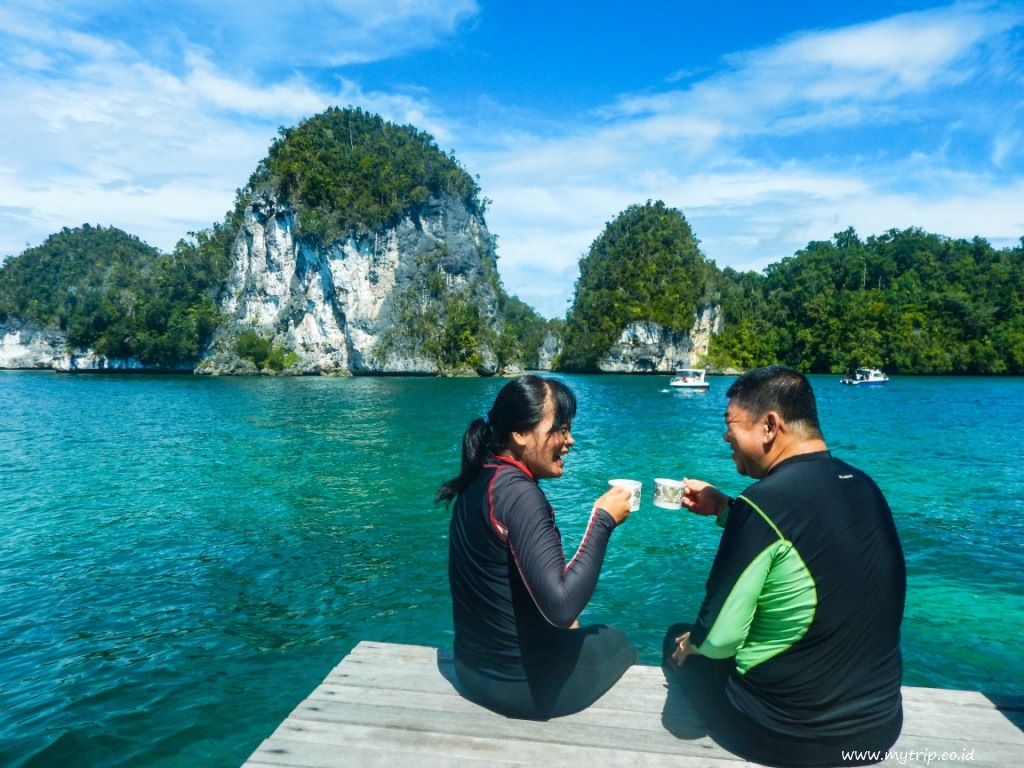 Ngeteh ngopi di anjungan Batu Wajah
O ya, di salah satu batu ini sekarang sudah terpampang tulisan "Geosite Kabui".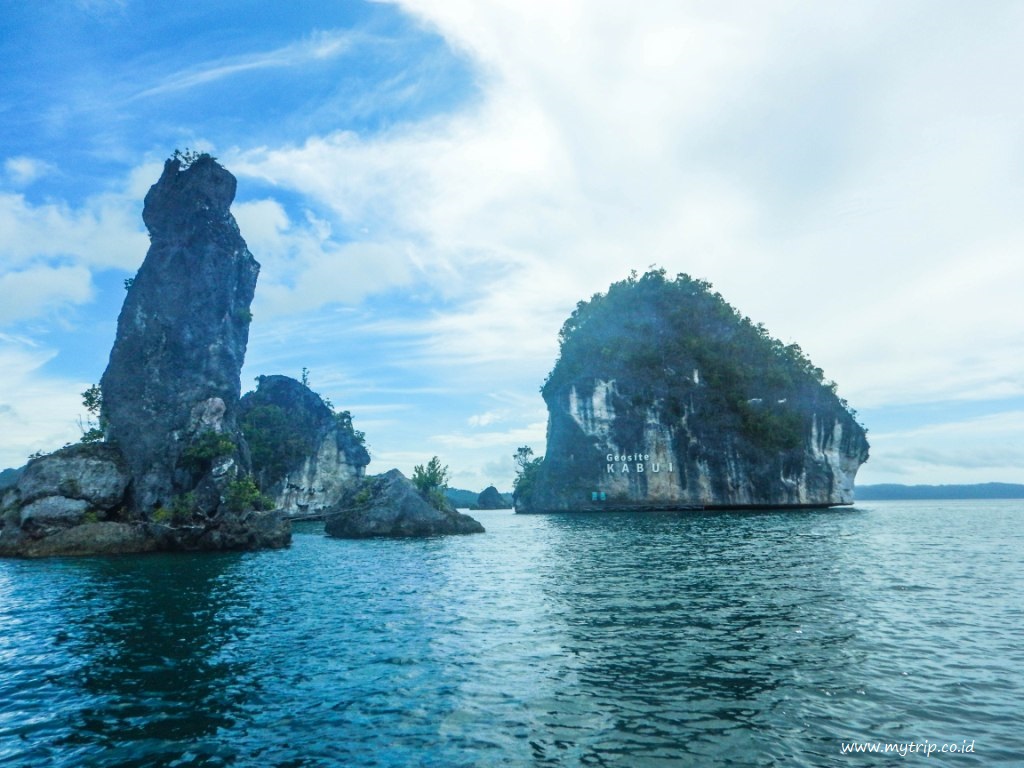 Sudah terpampang "Geosite Kabui"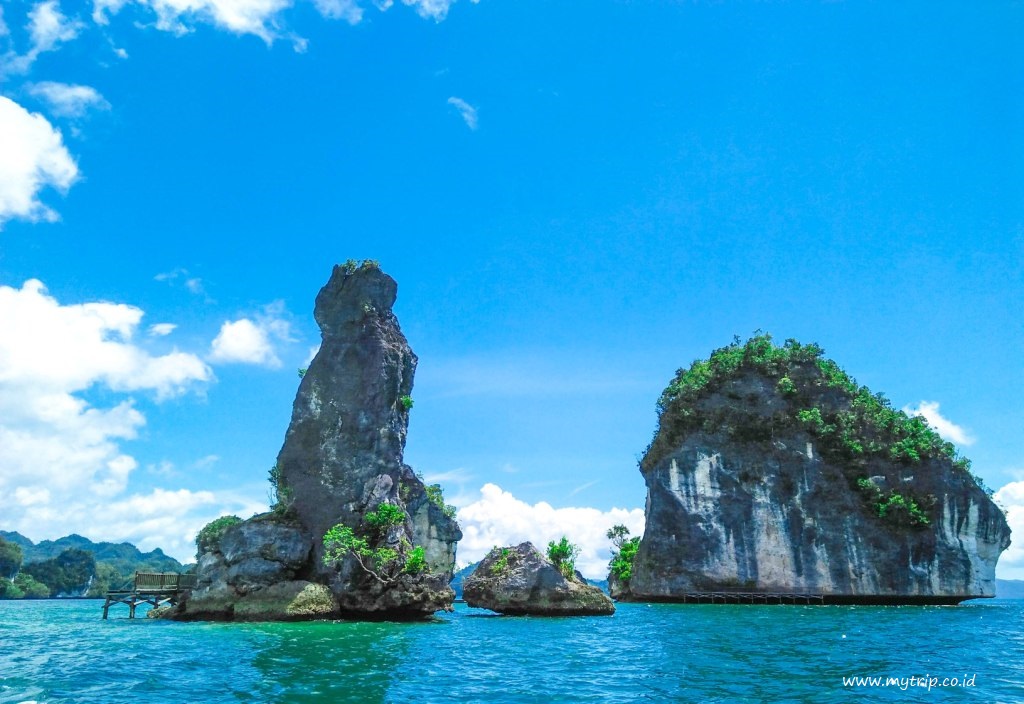 Tempat yang sama, dulunya belum ada tulisan "Geosite Kabui"
3. BATU GENDONG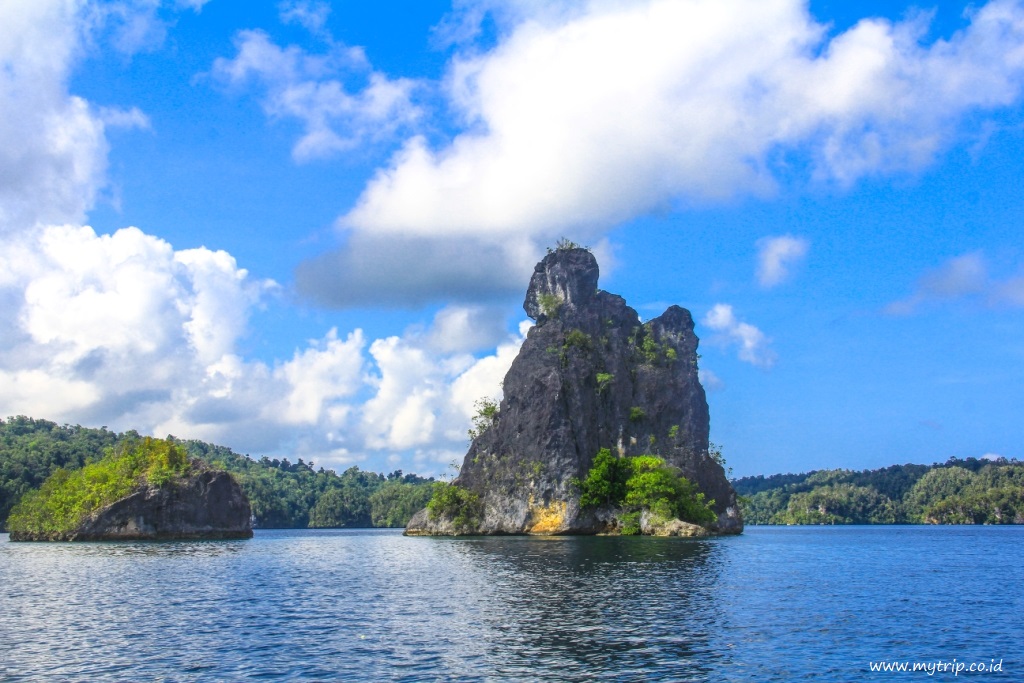 Nggak semua rombongan trip mampir ke batu yang mirip orang menggendong sesuatu di pundaknya ini. Nah buat yang belum ke sini, baca aja dulu ya narasi berikut ini.
Dari jauh saat speedboat mendekati Batu Gendong, Trippers bisa maju ke ujung speedboat untuk berpose dengan latar batu ini.
Berpose di ujung speedboat dengan latar Batu Gendong
Speedboat sesungguhnya juga bisa merapat ke batu yang lebih pendek di sebelah Batu Gendong, dan Trippers bisa melompat ke atas batu ini. Dari atas batu ini pemandangan ke arah belakang Batu Gendong sungguh cantik! Hamparan pulau karst kecil-kecil tampak seperti berbaris. Niscaya satu per satu anggota rombongan ingin difoto di sini. Cakep!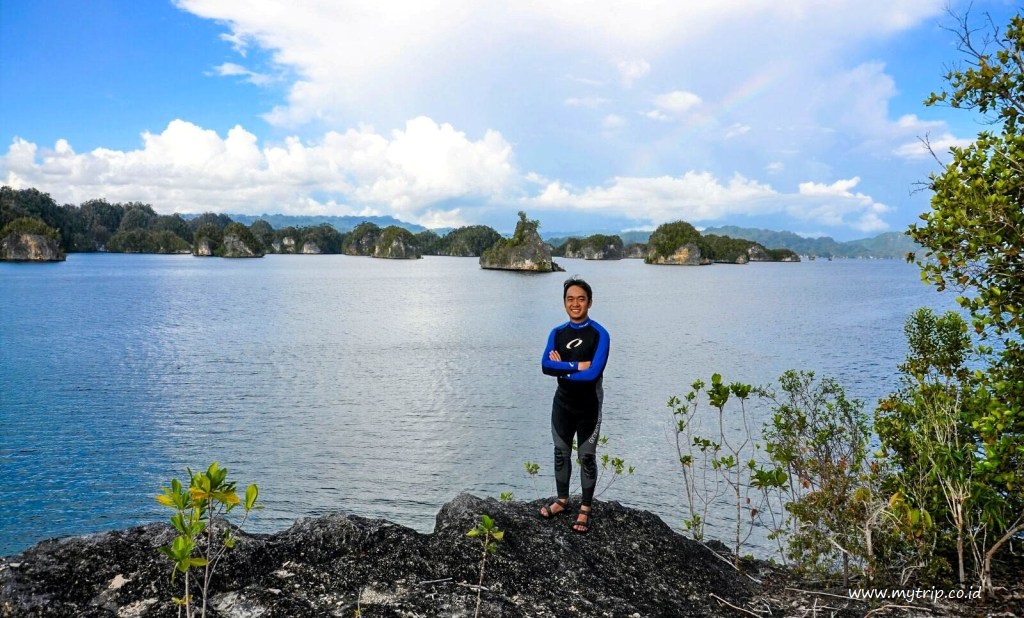 Berpose dari atas batu di sebelah Batu Gendong
Dari atas batu ini Trippers juga boleh melompat ke air. Aman kok, asal bisa berenang karena lautnya dalam. Jangan lupa, sebelum melompat, minta teman yang ada di speedboat untuk memotret. Sayang kalau sudah mengumpulkan keberanian untuk melompat tapi nggak ada barang bukti.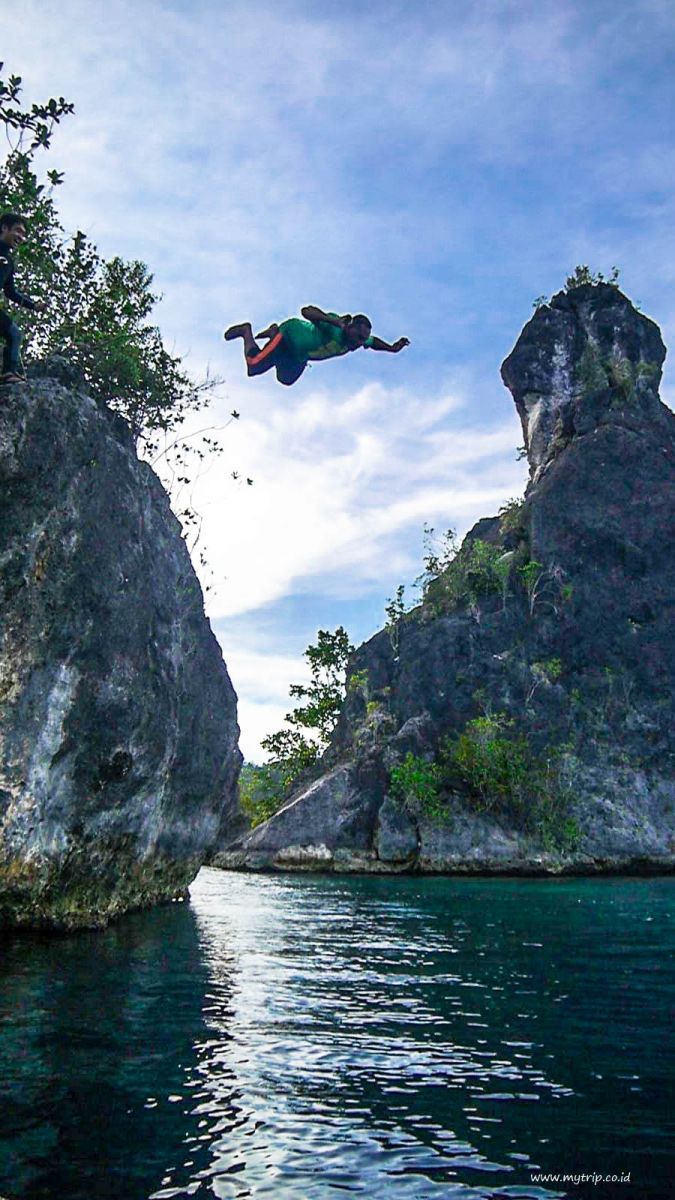 Berani melompat ke air?
O ya, menurut MyTrip, Batu Gendong kalau dilihat dari sisi samping dan jarak dekat, mirip juga dengan Sitting Buddha Statue. Coba perhatikan deh!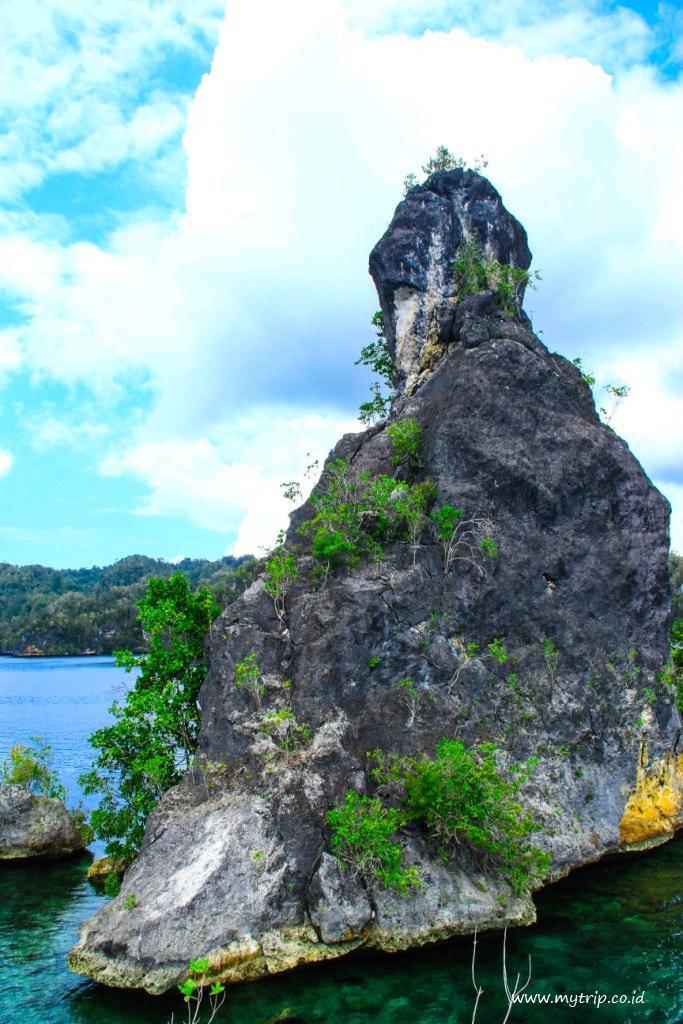 Mirip patung Sitting Buddha ya?
Baca juga: "Apa Spot Snorkeling Paling Cantik di Raja Ampat? Pulau Friwen Jawabnya!"
4. PUNCAK KABUI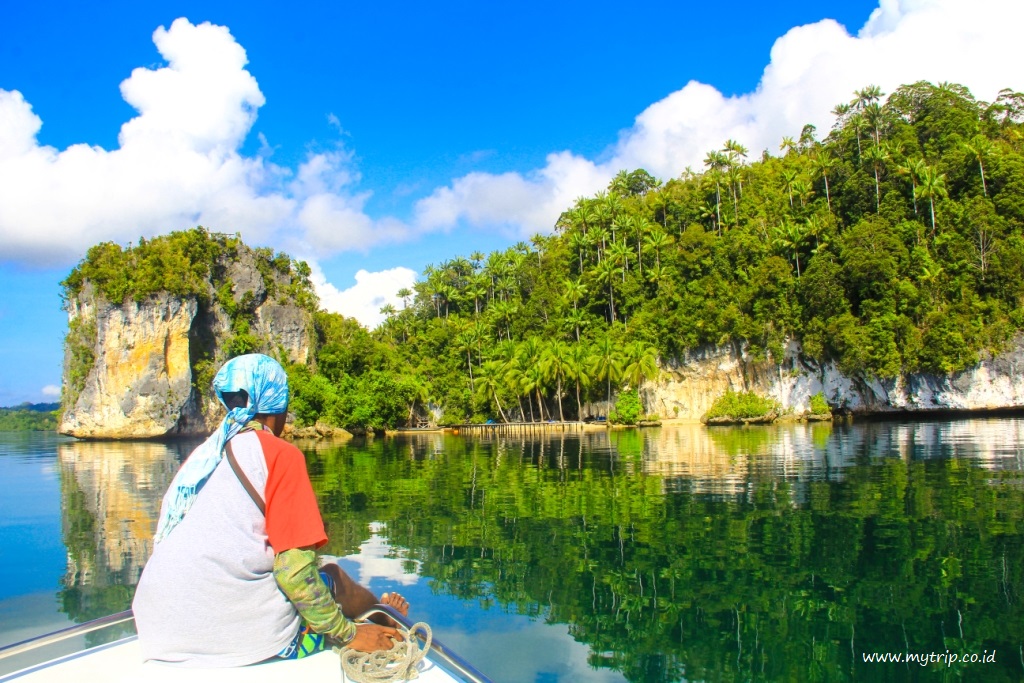 Menuju dermaga Puncak Kabui
Memangnya ada Puncak Kabui? Ada dooong.... Tapi memang jarang sekali rombongan trip yang ke sini. Padahal lokasinya juga nggak jauh-jauh di sekitaran spot lain di Teluk Kabui. Naiknya juga nggak sesulit ke Puncak Wayag. Sebagian treknya juga sudah berupa tangga kayu yang rapi. Setelah tangga habis baru usaha dikit deh melalui jalur tanah berbatu-batu kecil. Naik sih cuma 5 menit. Turunnya butuh kehati-hatian, bisa 8-10 menit.
Menuju puncak ada tangga kayunya
Pemandangan dari atas puncaknya memang nggak sespektakuler Piaynemo apalagi Wayag, tapi worth the effort banget lah! Di sisi satu kita bisa melihat hamparan pulau karst berbaris.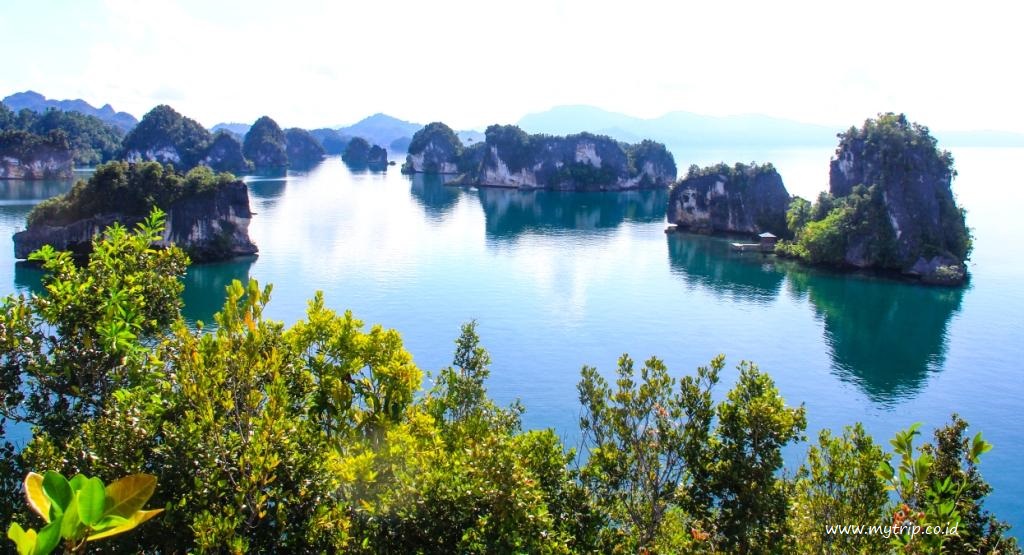 Pemandangan dari Puncak Kabui
Di sisi sebaliknya nampak ada batu seperti Batu Gendong, tapi ternyata itu bukan Batu Gendong.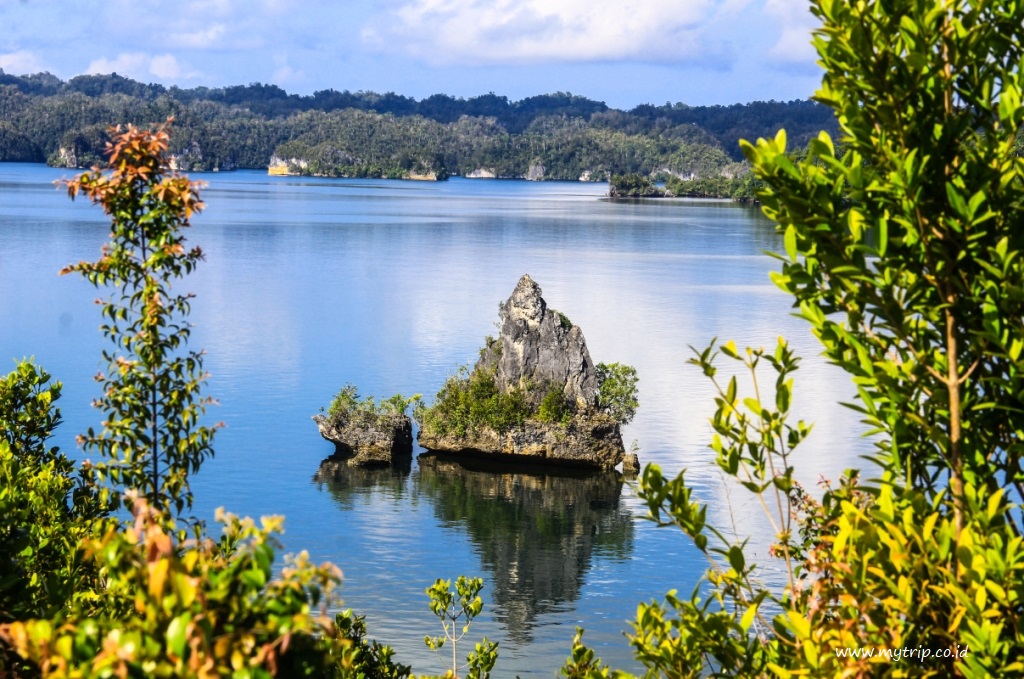 Mirip Batu Gendong, terlihat dari Puncak Kabui
Lain kali kalau ke Raja Ampat lagi, minta ke sini ya... Dan berpose seperti foto di bawah ini.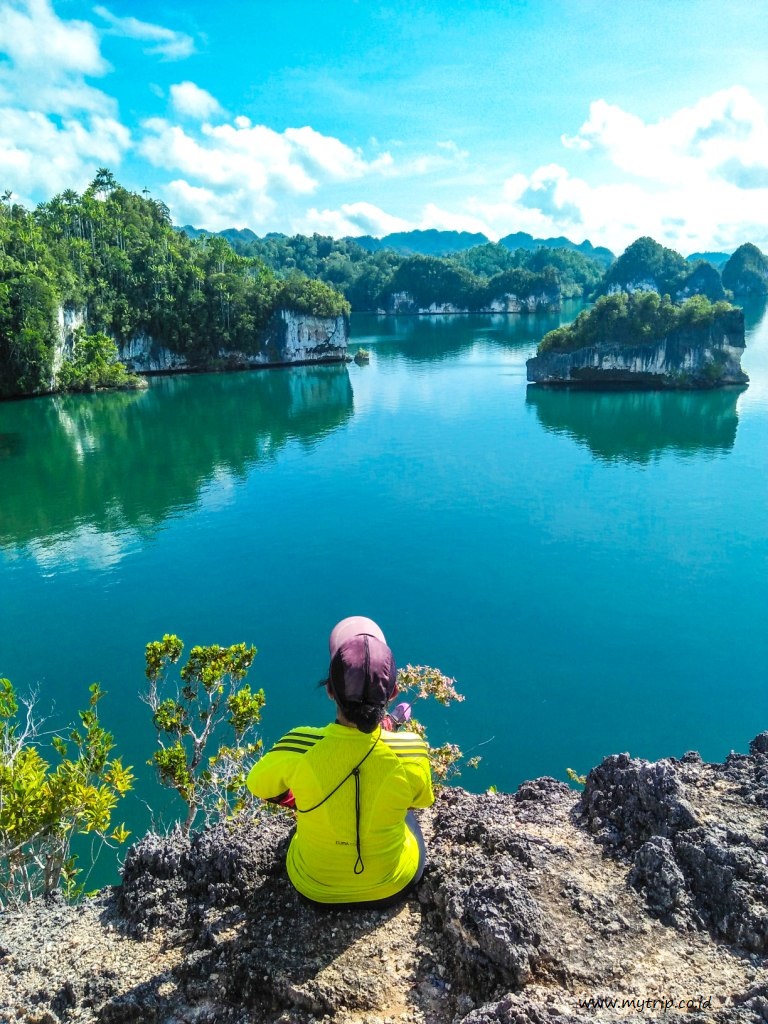 Berpose begini di Puncak Kabui
5. GUA WAWIYAI
Memang ada beberapa gua di tebing batu di sepanjang Teluk Kabui di sisi Pulau Waigeo. Salah satunya Gua Wawiyai yang sudah diberi papan penanda. Di dalamnya ada sisa-sisa tengkorak manusia, juga tercium aroma kotoran kelelawar. Pada kunjungan terakhir MyTrip ke sini Desember 2018, kami tidak masuk ke dalam gua. Tapi MyTrip pernah masuk pada kunjungan pertama ke Raja Ampat Februari 2008. Kurang menarik sih bagi wisatawan pada umumnya. Tapi bolehlah dimampiri kapan-kapan ya...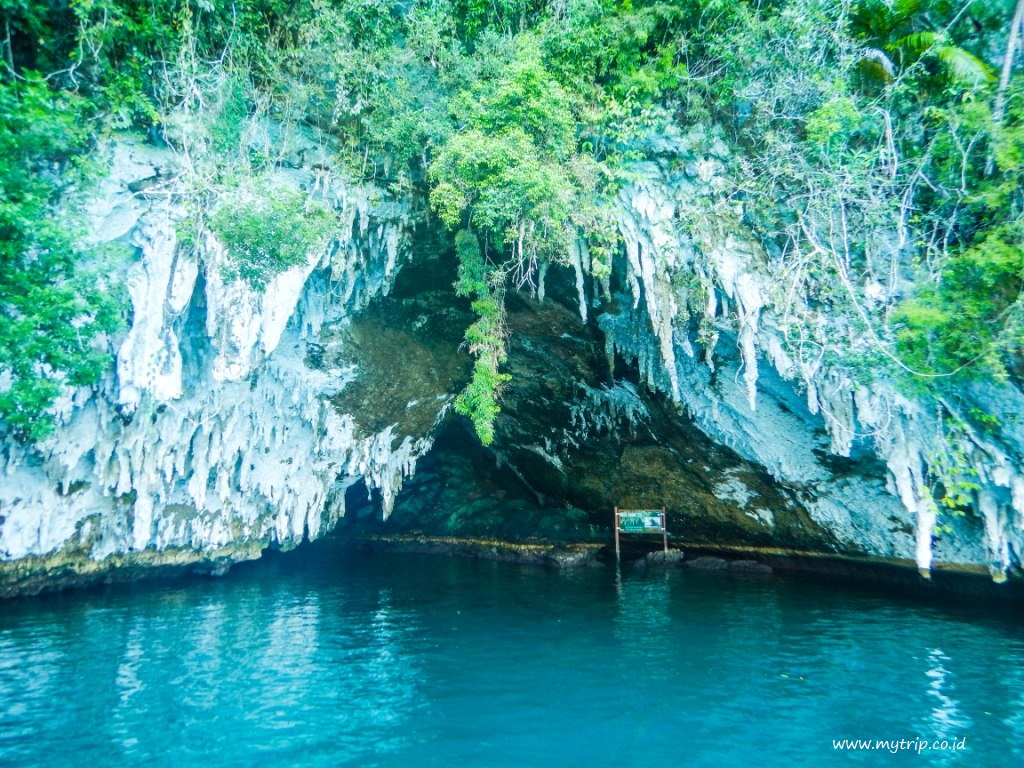 Gua Wawiyai
ANEKA PULAU KARST BERSERAKAN
Teluk Kabui sangat luas, mulai dari ujung masuknya di sisi timur dekat Desa Yenbeser di Pulau Gam, hingga berakhir sebelum memasuki The Passage (celah sempit berarus deras antara Pulau Waigeo dan Pulau Gam). Di sepanjang area ini banyak sekali berserakan pulau karst kecil-kecil aneka bentuk. Dan inilah yang menjadi daya tarik Teluk Kabui.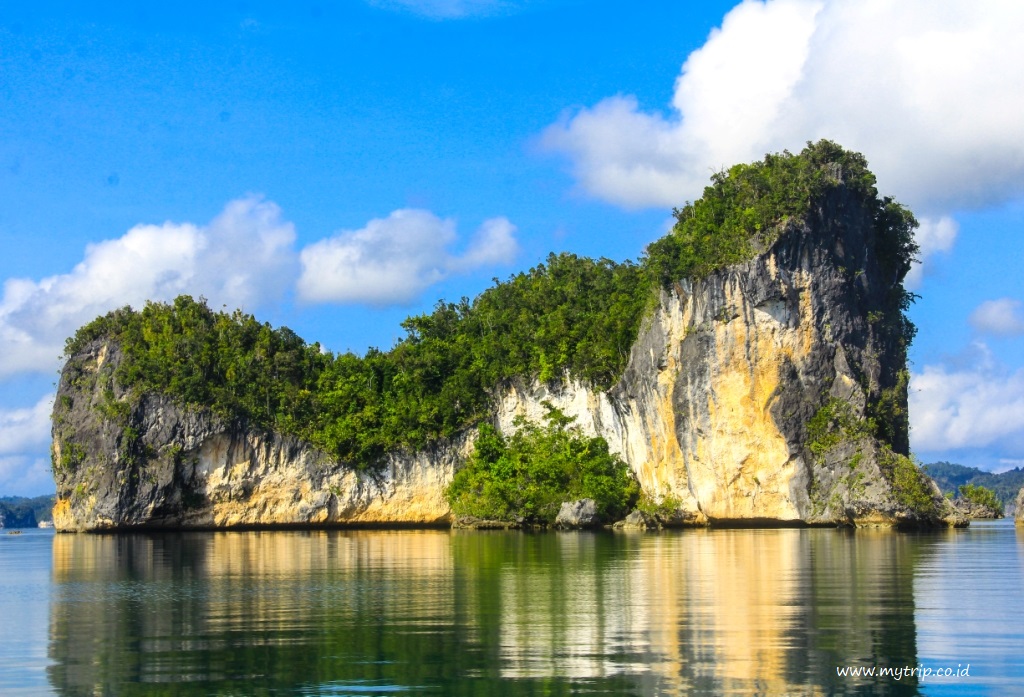 Pulau karst di Teluk Kabui
Sejauh mata memandang terlihat pulau-pulau tersembul dari dalam air laut kehijauan dan kebiruan. Saat cuaca cerah dan matahari bersinar dengan penuh semangat, bayangan pulau-pulau itu dan juga arakan awan di atasnya memantul sempurna di atas air. Siapa pun yang dihadapkan dengan pemandangan ini pasti langsung memotret tak henti-henti.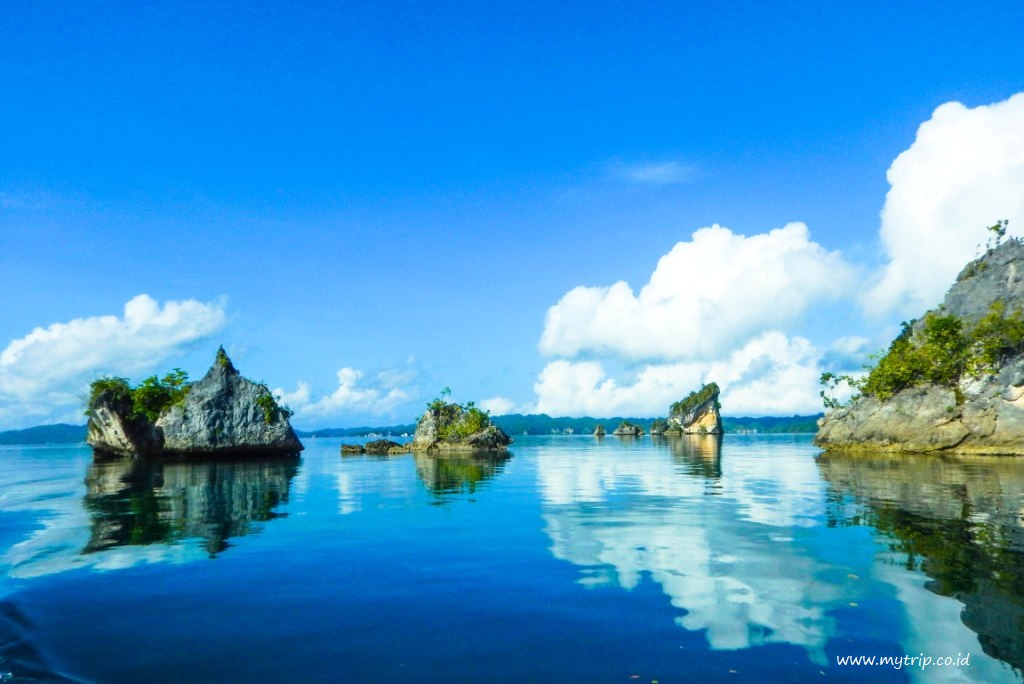 Pemandangan cantik lainnya di Teluk Kabui, memantul dengan sempurna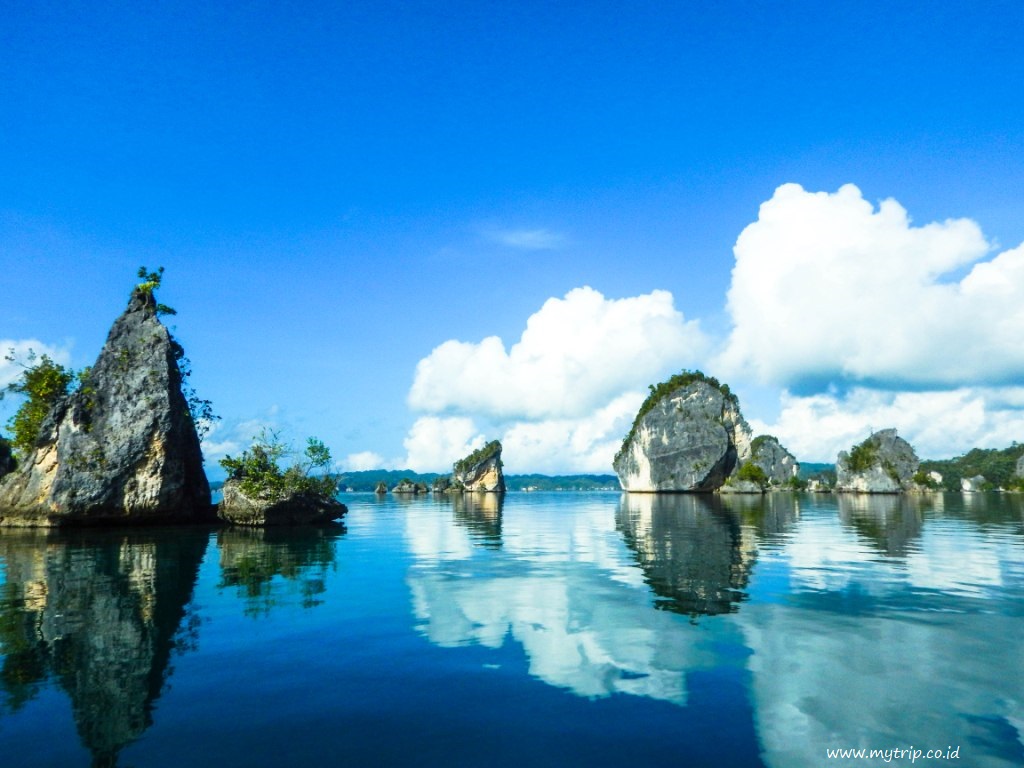 Saat cuaca cerah sisi mana pun dari Teluk Kabui terlihat cantik
O ya, kalau Trippers menginap di Waisai atau Waiwo, untuk ke Piaynemo maupun Wayag biasanya melewati Teluk Kabui, walaupun nggak masuk ke area Batu Pensil. Tapi pemandangannya sudah sangat mengibur mata. Kalau kebetulan sekembali dari Wayag saat sunset di Teluk Kabui juga siapkan kamera ya. Cantik banget!
Jadi siapa di antara Trippers yang sudah ke Teluk Kabui dan sudah mengunjungi kelima-limanya?
Kalau belum pernah ke Raja Ampat, ikut tripnya dengan MyTrip. Hubungi 0811821006.