THINGS TO DO IN CHENGDU: MELIHAT PANDA DI HABITATNYA
2020-04-17 00:00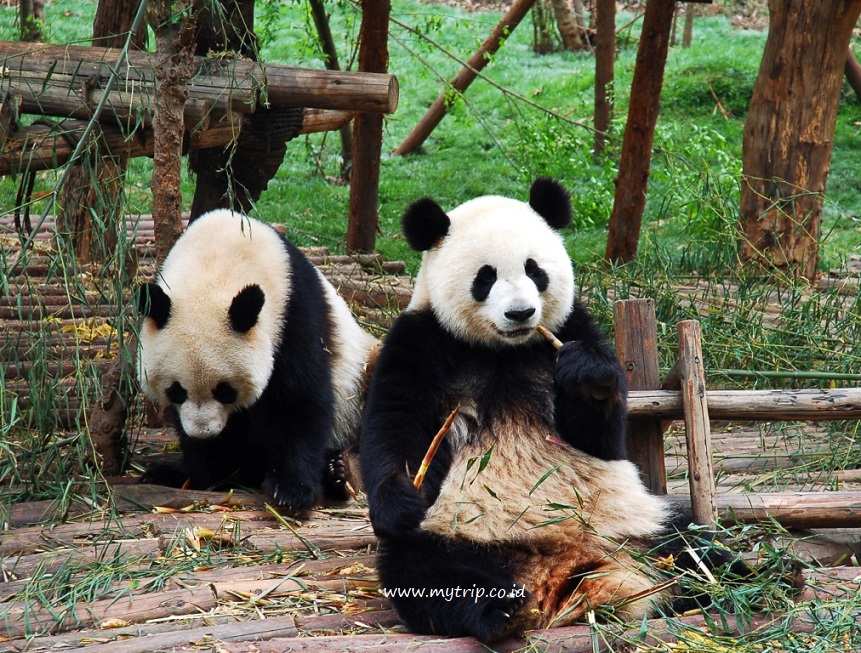 Chengdu mendapat julukan sebagai ibu kota panda. Maklumlah, 70-80% panda yang ada di China hidup di Provinsi Sichuan yang ibu kotanya adalah Chengdu. Selebihnya hidup di Provinsi Shaanxi dan Gansu. Makanya tujuan utama orang ke Chengdu pastilah untuk melihat panda. Ya, bicara Chengdu, orang memang langsung teringat dua hal: panda dan hot pot (menu khas Sichuan). Kali ini kita bahas tentang pandanya saja ya.... Tentang hot pot dan Jinli Street di tulisan selanjutnya.
CHENGDU RESEARCH BASE OF GIANT PANDA BREEDING
Nggak perlu susah-susah masuk hutan untuk melihat panda di habitat aslinya. Cukup datang ke Chengdu Research Base of Giant Panda Breeding (atau disingkat Chengdu Panda Base) yang berjarak sekitar 37 km dari Chengdu Shuangliu International Airport. Ditempuh berkendara 45 menit sampai 1 jam dari bandara.
Chengdu Panda Base didirikan tahun 1987. Diawali dengan hanya 6 panda yang diselamatkan dari alam liar. Sekarang jumlah pandanya hampir 200 ekor. Dibuka untuk umum tahun 1993. Panda Base ini bukan satu-satunya di Chengdu, melainkan ada 4, tapi yang banyak dikunjungi turis ya memang cuma ini.
Sesuai namanya, tempat ini bukan kebun binatang. Memang, para pengunjung bisa menonton tingkah polah para panda yang dilepas di kandang terbuka dan hanya dibatasi pagar seperti di kebun binatang. Tapi tujuan utama dibangunnya tempat ini untuk melindungi panda yang terancam punah dan untuk membantu pengembangbiakan serta melakukan berbagai riset. Para panda juga dilatih di sini, dikondisikan seolah-olah hidup di dunia liar dengan banyak pohon bambu yang memang sengaja dibudidayakan, sampai akhirnya siap dan dilepas ke alam liar untuk menjamin kelestarian panda di habitatnya.
Di dalam Panda Base ini juga terdapat Giant Panda Museum untuk menumbuhkan kesadaran publik tentang pentingnya melindungi hewan liar dan lingkungan mereka. Ini satu-satunya museum tematik di dunia untuk spesies binatang yang sudah langka dan hampir punah. Tiga ruang eksibisi utamanya: Giant Panda Hall, Butterfly Hall dan Vertebrate Hall.
Baca juga: "Transit di Bandara Chengdu Minimal 5 Jam? Coba ke Anshun Bridge Deh!"
CARA MENGELILINGINYA & APA SAJA YANG DILIHAT
Areanya yang sangat luas yakni 67 ha kalau dikelilingi jalan kaki lebih dari 3 jam. Makanya disediakan sightseeing bus (sejenis mobil golf bertenaga baterai) untuk keliling. Bayar terpisah di loket di dalam area setelah melewati gerbang masuk, seharga 10 yuan. Sementara harga tiket masuk 55 yuan. Jam buka: 07.30-18.00 (penjualan tiket tutup pukul 17.00). Tiket bisa dibeli langsung di loket tiket. Nggak ada penjualan tiket online. Jadwal sightseeing bus: 07.30–18.00 (April-Oktober), 08.00-17.30 (November-Maret).
Gerbang masuknya
Biasanya pengunjung berhenti dulu di area Moon Room, lalu naik bus lagi ke Sun Room. Dari situ, keluar dari tempat nursery bayi-bayi panda ada toko suvenir. Jatah naik sightseeing bus hanya 2 kali, jadi untuk kembali ke main gate harus jalan kaki melewati keteduhan jalan yang dinaungi rumpun-rumpun bambu, sekitar 12 menit. Kalau nggak mau jalan jauh, dari Moon Room ke Sun Room jalan kaki. Dari Sun Room balik ke main gate bisa naik bus lagi. Tapi enaknya jalan kaki kembali ke main gate, bisa mampir berfoto di taman dengan patung panda berwarna kuning dan foto-foto di bawah rumpun bambu.
Keteduhan rumpun bambu
Jangan lupa berfoto di sini
Di Panda Base ini segala jenis panda ada: bayi, anak-anak, sekeluarga panda yang sering terlihat goler-goleran dan bercanda bersama dengan tingkah yang lucu-lucu: terlentang sambil ngemil daun bambu, bergelantungan di dahan, gegulingan, saling menggaruk, berantem kecil, rebutan makanan, jatuh dari dahan pohon, dll. Red panda yang asalnya dari Sichuan juga ada. Selain panda, juga ada black swan, burung merak, black-necked crane.
Red panda
Jarak kita dengan panda-panda itu cukup dekat, apalagi kalau pandannya kebetulan berjalan mendekati pagar. Saat panda mendekati pagar, kalau kalah cepat, kita nggak kebagian menonton persis dari tepi pagar karena sudah keburu penuh sama pengunjung lain. Kalau datang dengan pemandu lokal yang sudah pengalaman, dia bisa kasih tahu celah untuk melihat panda di tengah kerumunan atau angle-angle terbaiknya.
Biasanya selalu ada antrean saat masuk ke ruangan untuk melihat bayi panda dari balik kaca. Ada petugas yang akan menyuruh kita segera jalan, nggak boleh kelamaan menumpu pada kaca untuk melihat bayi panda. Panda biasanya melahirkan pada bulan Agustus. Jadi kalau mau melihat bayi panda datanglah saat Agustus dan September.
Bayi-bayi panda yang bisa dilihat dari balik kaca
Perlu diperhatikan agar jangan berteriak kencang apalagi saat melihat bayi panda karena akan mengganggu. Ambil foto juga nggak boleh pakai flash terutama untuk bayi panda karena matanya sensitif terhadap lampu.
O ya, di Panda Base ini nggak ada kesempatan memberi makan panda ya. Dilarang.
Baca juga: "Inspirasi Film Avatar Datang Dari ZhangJiaJie National Park"
BERFOTO DENGAN BAYI PANDA
Ada kesempatan untuk berfoto menggendong anak panda, tapi bayarnya sangat mahal. Sengaja memang supaya nggak banyak orang yang mau karena kalau terlalu banyak, bisa berdampak buruk pada kesehatan bayi panda. Tarifnya 2.000 yuan, untuk berfoto dengan anak panda berusia 8-10 bulan, dan waktunya hanya 1-3 menit. Harus reservasi dengan mengirim email ke pandabase@panda.org.cn. Pembayarannya tunai di tempat. Tapi ada berita yang menyebutkan sudah nggak ada lagi kesempatan ini, karena takut jika manusia malah menularkan penyakit kepada bayi panda.
JAM TERBAIK UNTUK BERKUNJUNG
Waktu terbaik kunjungan pukul 08.30-10.00 karena panda sedang aktif makan pagi, naik-naik pohon atau ke platform kayu yang disediakan. Karena memang panda hampir sepanjang hari bermalas-malasan. Tapi datang sore hari juga ada saja kok panda yang aktif, nggak semua sedang bermalas-malasan atau tidur.
Panda aktif kalau pagi, naik-naik pohon segala
Pandanya lagi sarapan
Untuk bulannya, sebenarnya bulan apa saja OK karena cuaca Chengdu tidak ekstrem, hanya lembab. Tapi sebaiknya hindari puncak musim panas karena kalau terlalu panas, panda-panda itu malas keluar dari sarangnya yang sejuk (pakai AC lho). Alhasil kita bisa gigit jari. Walaupun masih ada harapan melihat panda di ruang indoor.
Juga jangan datang pas hari libur nasional di China karena bakal penuh banget karena warga lokal juga senang ke sini.
Durasi kunjungan kalau mau puas ya setengah harian. Bisa makan juga di restoran yang ada di dalam area atau jajan-jajan dan melihat-lihat toko suvenir. Tapi kalau nggak punya banyak waktu, minimal 2 jam lah. Kalau 1 jam terlalu mepet dan terburu-buru.
BELI BANDO PANDA
O ya di luar area Panda Base ini banyak pedagang kaki lima atau asongan, terutama menawarkan bando yang ada boneka pandanya atau topi panda. Kalau tertarik belilah sebelum masuk, jadi bisa memakai bando panda itu selama berkeliling di Panda Base ini. Pengunjung lain terutama wanita dan anak-anak banyak yang memakai bando panda.
CARA KE CHENGDU RESEARCH BASE OF GIANT PANDA BREEDING
Dengan bus, ada beberapa No. bus yang menuju Stasiun Xiongmao Jidi (Chengdu Research Base of Giant Panda Breeding).
Dengan Metro Line 3, turun di Dong Wu Yuan Station. Keluar dari Exit B dan lanjut naik bus No.198 atau 198a langsung ke Panda Base.