PANDUAN CERDAS EKSPLOR CENTRAL AUSTRALIA
2018-02-26 00:00
Padang gurun di Central Australia
Central Australia memang tidak terdaftar dalam peta administratif Australia, namun di peta pariwisata, Central Australia membentang dari Newcastle Water di Northern Territory ke Kulgera, perbatasan antara Northern Territory dan South Australia. Cuaca ekstrem, wilayah yang luas, medan yang sulit --dari padang gurun hingga pegunungan batu, dan budaya Suku Aborigin yang sangat kuat menjadikan region ini berbeda dengan wilayah Australia lainnya. Di sinilah tempat ikon-ikon Australia yang terkenal berada, yaitu Uluru (Ayers Rock), Kings Canyon, Kata Tjuta, dan Devils Marbles.
INFORMASI UMUM
Lokasi: Kulgera (perbatasan Northern Territory dan South Australia) sampai Newcastle Water (Northern Territory), Australia.
Luas wilayah: 546.046 km² (lebih luas dari Sumatera tapi lebih kecil dari Kalimantan).
Mata uang: Australian Dollar (AUD). AUD 1= +/-Rp 10.650
Populasi: 40.000 jiwa dengan 50% Suku Aborigin dan 50% pendatang.
Visa: Pengajuan visa ke VFS Global. Silakan cek di http://www.vfsglobal.com/Australia/Indonesia/
Waktu terbaik kunjungan: Maret–Oktober. Hindari musim hujan dan cuaca yang sangat ekstrem di bulan Desember-Ferbuari.
Zona waktu: Central Standard Time (ACST), GMT+9.30 (2,5 jam lebih cepat dari WIB).
CARA KE CENTRAL AUSTRALIA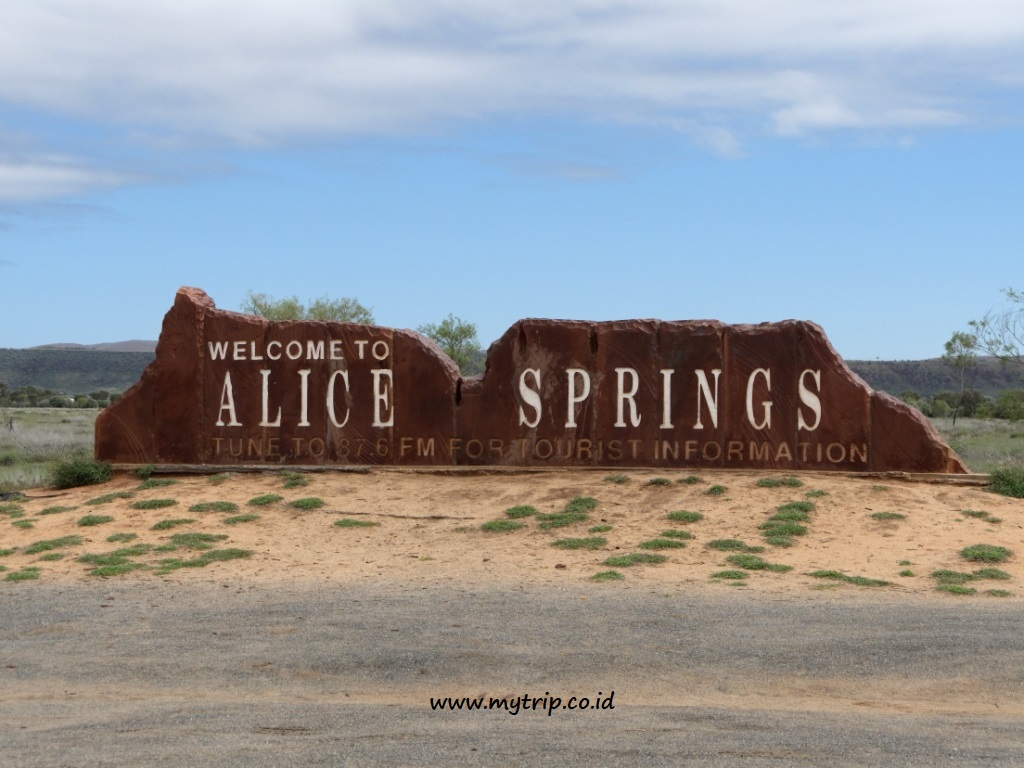 Via udara:
Dari Jakarta atau Denpasar ke Kota Darwin dulu. Jetstar melayani rute penerbangan langsung Denpasar-Darwin (2,5 jam, harga tiket PP mulai USD 468). Penerbangan dilanjutkan dari Darwin ke Alice Springs Airport dengan Qantas atau Virgin Australia dengan durasi 2 jam; harga tiket PP mulai USD 477.
Alice Springs Airport sebagai bandara utama di Central Australia berada 15 km dari pusat kota. Bandara ini setiap hari melayani rute pesawat domestik dari semua kota besar di Australia.
Jika ingin mengunjungi Ayers Rock, Kata Tjuta dan Kings Canyon bisa terbang langsung dari kota-kota besar di Australia menuju Ayers Rock Domestic Airport menggunakan Jetstar, Virgin Australia, atau Qantas.
Ayers Rock Domestic Airport lokasinya tepat di luar Yulara, daerah tempat Uluru berada. Di bandara terdapat banyak jasa penyewaan kendaraan untuk mengunjungi Uluru dan sekitarnya.
Dengan kereta: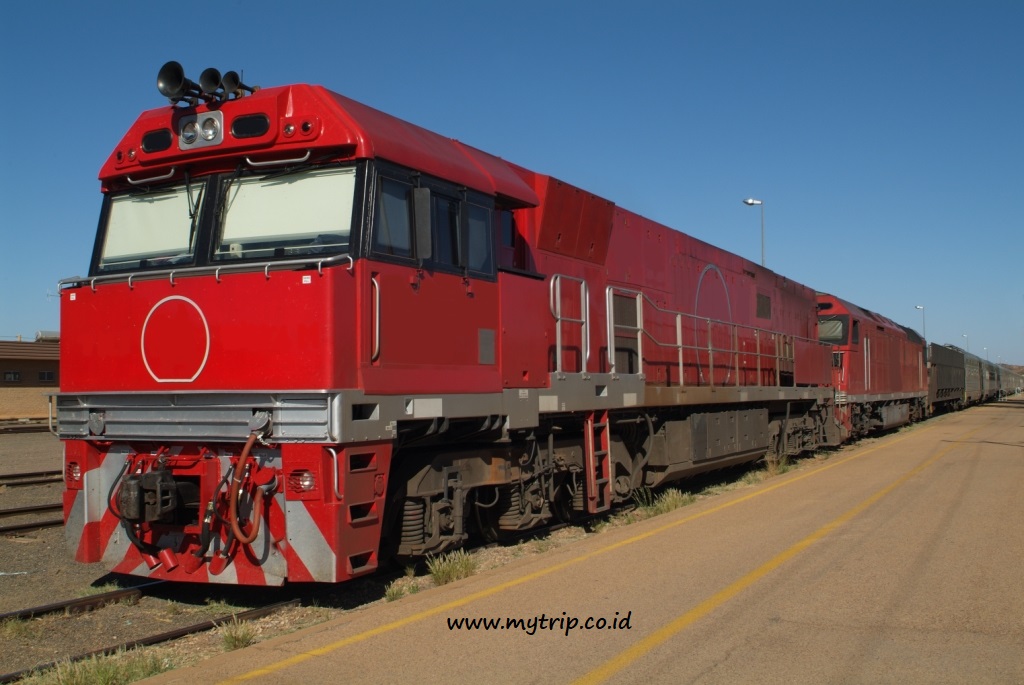 The Ghan
The Ghan, kereta api yang beroperasi dari Adelaide ke Darwin melewati Alice Springs. Durasinya +/-23 jam. Stasiun kereta api di Alice Springs hanya 1 km dari pusat kota. Info detil bisa dilihat di www.greatsouthernrail.com.au.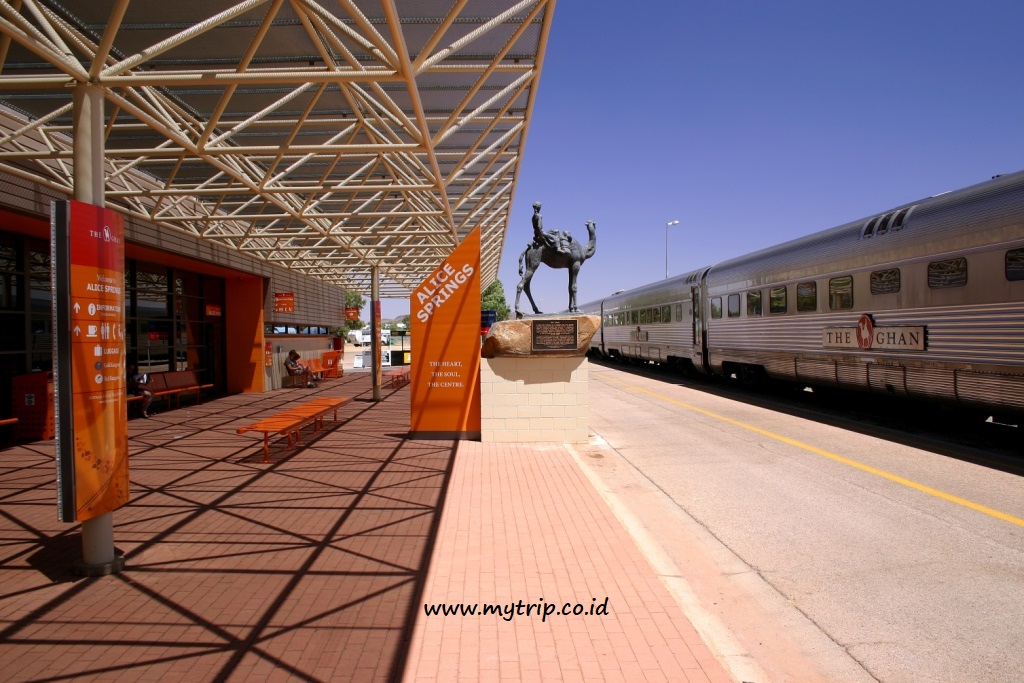 Stasiun kereta api di Alice Springs
Dengan bus:
Greyhound Bus Australia melayani rute dari Adelaide dan Darwin ke Alice Springs. Durasinya +/-21 jam. Info detil bisa dilihat di www.greyhound.com.au.
CARA KELILING CENTRAL AUSTRALIA
Paling mudah dengan menyewa mobil dari perusahaan penyewaan kendaraan di Darwin seperti Thrifty, Budget, Europcar atau Hertz. Karena kebanyakan medannya berupa gurun pasir dan bebatuan, sebaiknya menggunakan kendaraan 4WD. Harga sewa mobil 4WD di Darwin berkisar AUD 94/hari, belum termasuk pajak, asuransi, dan biaya administrasi. Memilih jenis mobil dan booking bisa dilakukan secara online dan mobil bisa dijemput di bandara. Jika ingin membandingkan harga sewa kendaraan dari berbagai perusahaan di Australia, www.vroomvroomvroom.com.au bisa sangat membantu.
Syaratnya: Berusia >21 tahun, memiliki SIM Internasional dan memiliki credit card.
Untuk turis asal Indonesia, menyetir di Australia cukup mudah karena sama-sama mengemudi di sisi kiri jalan seperti di Indonesia. Bantuan peta atau GPS sangat diperlukan, mengingat wilayah Central Australia yang sangat luas. Peta dan GPS bisa diperoleh dari tempat penyewaan kendaraan.
Ingat! Selalu kenakan sabuk pengaman walaupun duduk di kursi penumpang di belakang dan patuhi semua rambu lalu lintas karena kamera pengamat ada di mana-mana.
DURASI IDEAL KUNJUNGAN
Untuk menikmati Central Australia secara maksimal dibutuhkan waktu paling tidak 4 hari. Satu hari untuk menikmati Alice Springs dengan Heritage Walk dan 3 hari mengunjungi Uluru, Kata Tjuta, dan Kings Canyon.
PENGINAPAN
Alice's Secret (6 Khalik Street, Alice Springs). Backpacker hostel yang dilengkapi kolam renang dan fasilitas basic. Harga mulai AUD 23/orang untuk dormitory.
Toddy's Accomodation Resorts (41 Gap Road, Alice Springs). Memberikan harga khusus AUD 22/orang untuk dormitory jika mengikuti tur Uluru dengan The Rock Tour.
Ibis Hotel Alice Springs. Menawarkan kenyamanan hotel berbintang. Harga bervariasi sesuai tanggal kedatangan dan jenis kamar, mulai AUD 149 untuk double room.
Devils Marbles Hotel (Stuart Highway), lokasinya hanya 10 km dari situs Devils Marbles, menjadikan hotel ini sebagai pilihan yang tepat untuk menikmati keindahan Devils Marbles pada saat sunset dan sunrise. Harga mulai AUD 10/orang untuk camping site dan AUD 60 untuk single room.
TIPS:
Waktu terbaik mengunjungi Uluru adalah September-Oktober dan Maret–Juli. Di bulan-bulan lainnya cuaca terlalu dingin atau terlalu panas.
Kalau datang di bulan September–Februari dan berencana mengikuti camping tour, bawa sleeping bag tipis aja. Tapi kalau datangnya Maret–Agustus, bawa sleeping bag tebal yang khusus winter. Beberapa operator tur menyewakan sleeping bag dengan harga mulai AUD 15 dan bisa dipakai selama mengikuti tur.
Bawa walking shoes yang nyaman dipakai dan botol air minum ukuran besar.
Kalau pergi ke Uluru dengan mobil pribadi tanpa operator tur, sebaiknya memulai perjalanan pagi-pagi sekali sebelum matahari terbit.
Lalat sangat banyak dan mengganggu ketika summer, pastikan membawa flies net (jala yang bisa ditempel di kepala/topi) yang bisa dibeli di toko perlengkapan outdoor.
Ada beberapa orang yang nggak bisa tidur dengan swag. Pastikan menanyakan sedetil mungkin fasilitas tur sebelum membeli, karena beberapa tur menawarkan fasilitas camping dengan tenda sederhana dengan harga yang sedikit lebih mahal.
Di Alice Springs banyak penduduk Aborigin yang meminta-minta. Jangan sekali-kali memberikan uang, rokok, atau makanan. Mungkin mereka akan berteriak kepada pengunjung, tapi tenang saja, mereka akan lupa dalam 30 detik.
Catatan: Semua harga dapat berubah sewaktu-waktu