JELAJAH ARIZONA SEHARIAN DENGAN MOBIL
2017-07-31 00:00
Menjelajahi 'negeri bebatuan' Arizona tak akan membosankan karena pemandangan yang disajikan sungguh memukau. Dimulai dengan perjalanan mengejar matahari terbit di dekat Chapel of Holy Cross Sedona, kemudian melanjutkan perjalanan ke Antelope Canyon dan berkelana ke Horseshoe Bend sebelum menghabiskan sisa hari bersantap malam di kapal sambil menjelajahi Lake Powell. Berikut panduan jelajah Arizona dalam satu hari dengan mobil.
Pukul 05.00–08.00
CHAPEL OF HOLY CROSS, SEDONA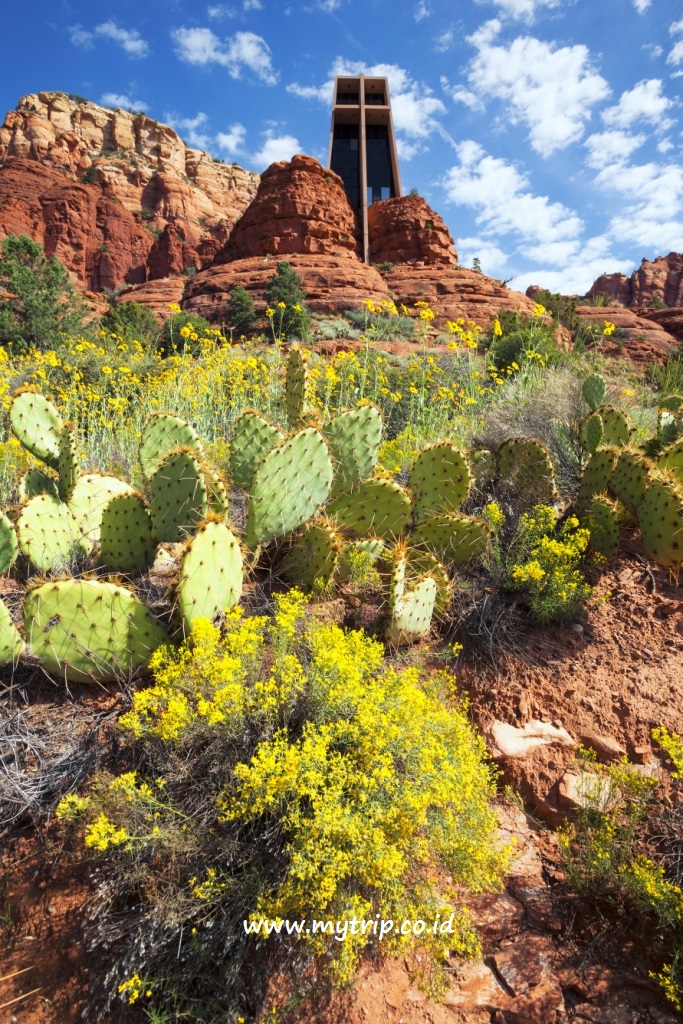 Berangkat dari Kota Sedona. Masukkan alamat Chapel of Holy Cross (780 Chapel Road, Sedona, AZ 86336) ke dalam GPS untuk mendapatkan panduan tepat menuju kapel Katolik di puncak Sedona ini. Kita dapat menghentikan kendaraan di area bawah kapel untuk menikmati pemandangan matahari terbit yang menawan. Mengamati susunan awan dilengkapi dengan semburat jingga intens, kita akan memahami arti kalimat "you have to see it to believe it". Ada banyak pilihan kedai kopi mungil, restoran atau sekadar tempat singgah yang bisa disinggahi di sepanjang jalan.
Lokasi berikutnya ditempuh dengan bermobil 3 jam.
Pukul 11.00 – 15.00
ANTELOPE CANYON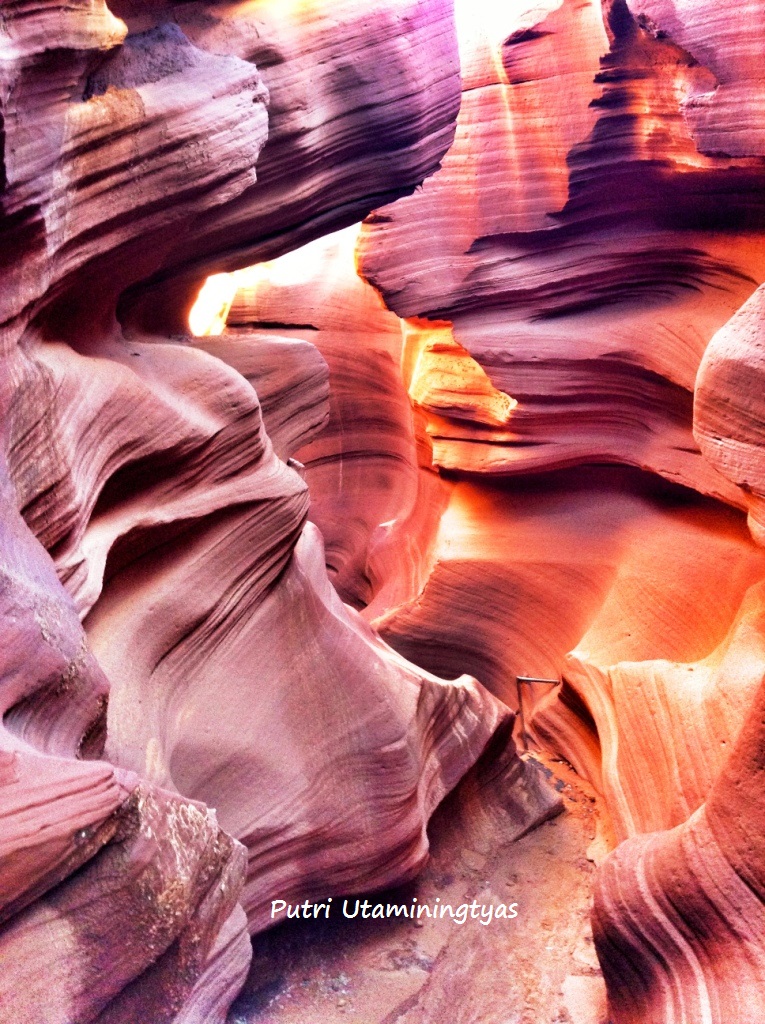 Area ini terletak tepat di daerah ngarai (koordinat: N 36 Degrees 54′ 9″ W 111 Degrees 24′ 39″). Pastikan Anda mengambil Highway 98 menuju Kaibeto, kemudian belok kiri di Navajo Route N22B sekitar 1/4 mil. Anda akan segera menemukan tanda masuk tak jauh dari persimpangan dimaksud.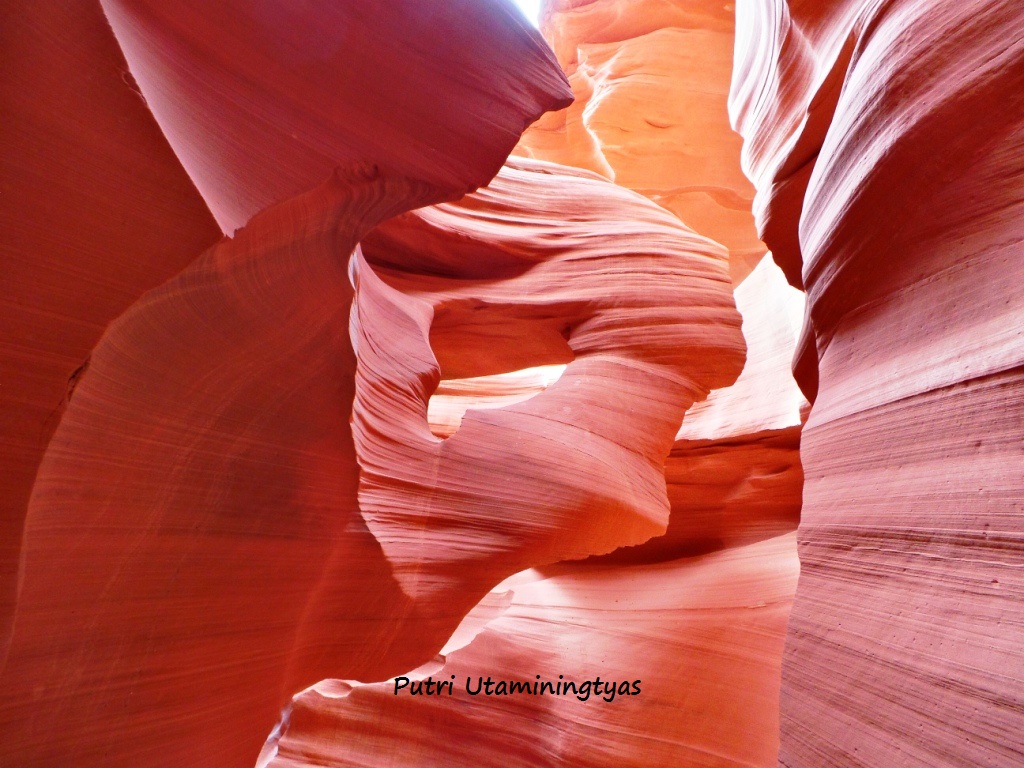 Antelope Canyon adalah ngarai yang terbentuk dari batu berpasir selama ribuan tahun. Waktu terbaik mengunjunginya siang hari karena sorotan cahaya matahari yang masuk melalui celah sempit akan dipantulkan dengan anggunnya oleh dinding batu ngarai.
Upper Antelope Canyon lebih banyak dikunjungi ketimbang Lower Antelope Canyon karena untuk menikmatinya nggak perlu mendaki dan seluruh areanya berada di atas tanah. Sebelum memasuki area parkir kita diharuskan membayar tiket masuk sebesar USD 6. Dan bayar lagi tiket untuk mengikuti tur sebesar USD 25. Setelah melalui jalan yang penuh debu, akhirnya sampai juga di mulut Upper Antelope Canyon. Decak kagum pun terdengar di mana-mana. Tur pada umumnya berlangsung 60 menit, mulai dari kendaraan bergerak dari areal parkir sampai kembali ke tempat parkir.
Lokasi berikutnya ditempuh dengan bermobil 20 menit.
Pukul 15.30 – 16.30
HORSESHOE BEND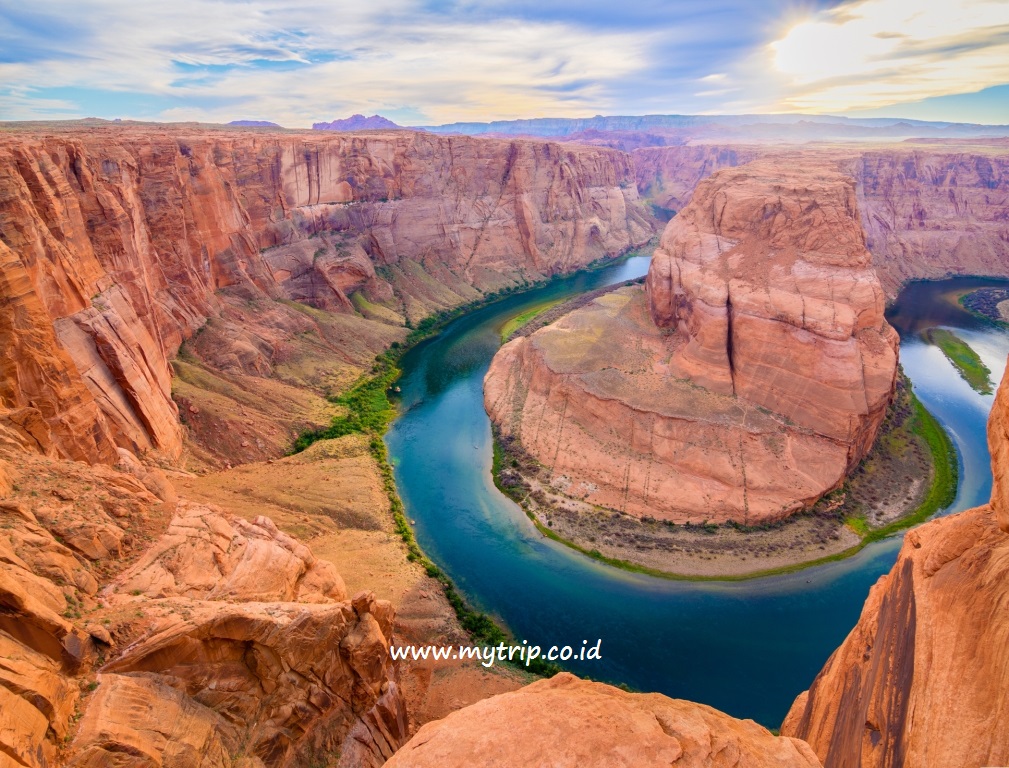 Horseshoe Bend adalah meander Sungai Colorado yang berbentuk tapal kuda. Lokasinya +/-8 km dari Lake Powell. Kombinasi antara jernihnya air Lake Powell dengan bentuk meander yang unik dan bebatuan merah di sekitarnya menjadikan harmoni warna yang senada. Nggak ada tiket masuk. Masih diperlukan 1,2 km lagi dari area parkir dengan jalan kaki. Perjalanannya nggak mudah karena kontur bukit yang naik turun dan berpasir. Tak ada pagar pengaman di tepian tebing Horseshoe Bend sehingga pengunjung dapat mengambil gambar sedekat mungkin dari tepi ngarai. Tapi ini terlalu menyeramkan bagi yang takut ketinggian. Cukuplah mengambil gambar dari kejauhan. Jangan sampai celaka hanya karena ingin mendapatkan angle foto yang bagus ya!
Lokasi berikutnya ditempuh dengan bermobil 10 menit.
Pukul 17.00 – 19.00
LAKE POWELL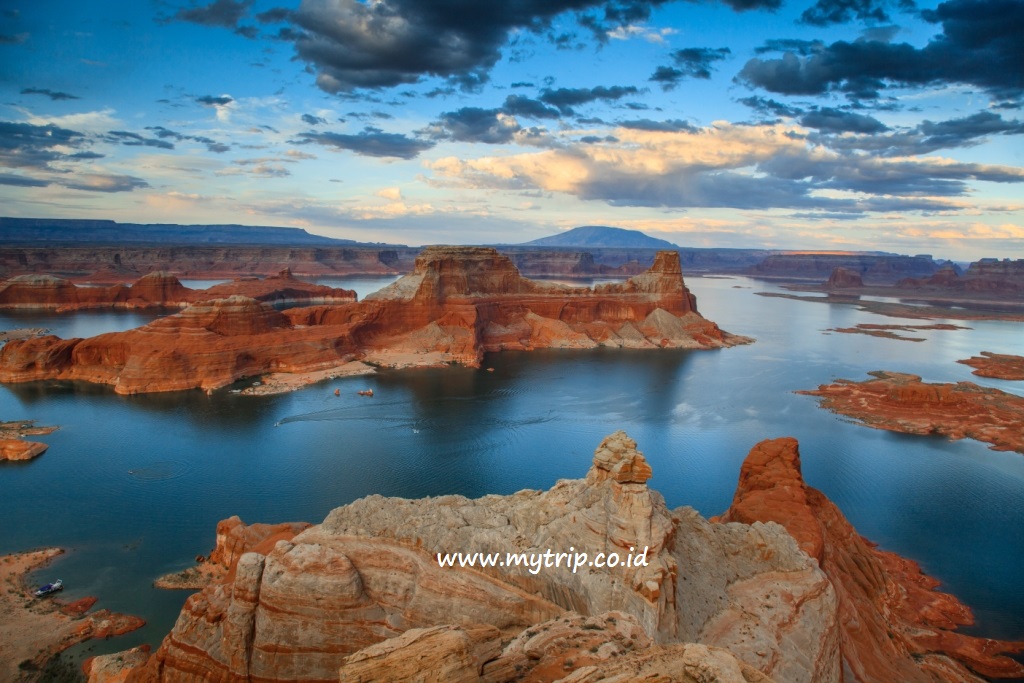 Danau ini salah satu bendungan tertinggi di dunia yang membelah Utah dan Arizona. Di balik birunya Lake Powell tersimpan fungsi yang istimewa, yaitu sebagai penyedia tenaga listrik bagi Colorado, Utah, Wyoming dan New Mexico.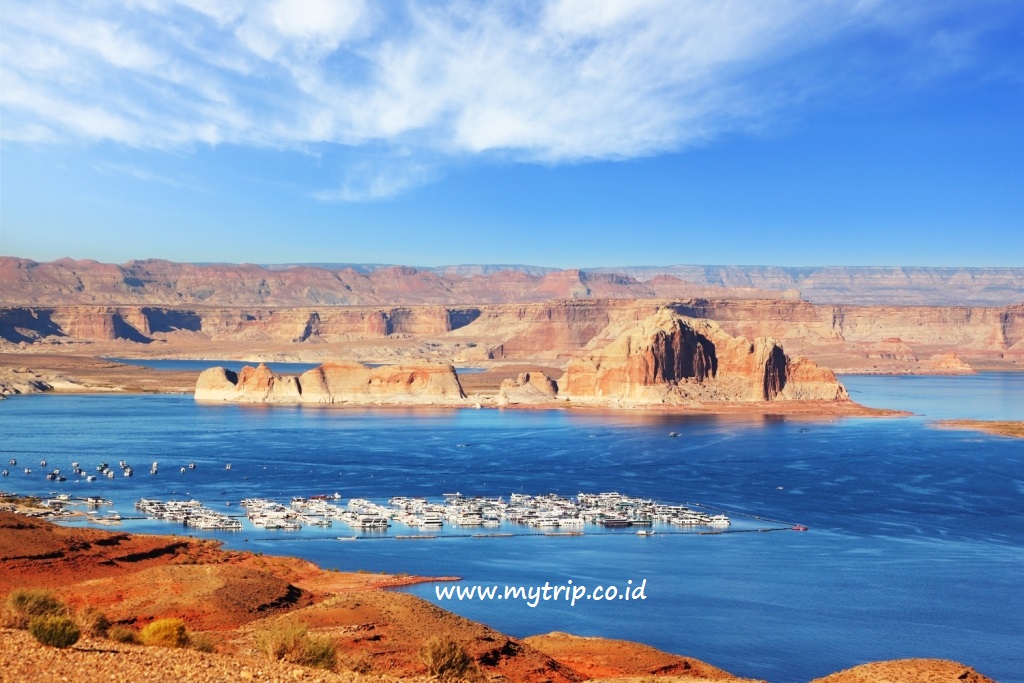 Sebagai tempat wisata Lake Powell sering dikunjungi karena menawarkan spot yang menarik untuk memancing, berenang, atau sekadar wisata dengan menggunakan boat atau kayak. Pengelola resor di pinggir danau menawarkan aktivitas baru yang memikat, yaitu makan malam di kapal sambil menikmati pemandangan danau dan ngarai Lake Powell yang spektakuler. Nggak ada dress code, jadi kita dapat tetap menjadi diri sendiri saat bersantap. Biaya yang dibutuhkan sebesar USD 75 untuk dewasa dan USD 35 untuk anak-anak 3-12 tahun.
Tips for Your Trip:
- April–Mei merupakan waktu yang ideal untuk menikmati Arizona dan sekitarnya tanpa harus tersiksa oleh sinar matahari yang sangat menyengat.
- Persewaan mobil di Amerika relatif mudah bagi pendatang. Cukup menunjukkan paspor, SIM dan kartu kredit, kita dapat langsung memilih mobil yang diinginkan. Jangan lupa pastikan nama di ketiga dokumen tersebut sama karena penyewa tidak diizinkan membayar dengan menggunakan kartu kredit orang lain. SIM dan kartu kredit Indonesia diakui di Arizona.
- Tarif mobil yang ditawarkan bervariasi tergantung jenis, tanggal ambil dan pengembalian, durasi dan tentunya perusahaan persewaan. Jangan lupa mengecek harga di situs penyedia pembanding harga seperti www.hotwire.com, www.kayak.com, www.expedia.com dan tentu saja situs perusahaannya langsung. Beberapa nama yang tersohor antara lain Hertz, Enterprise, Avis, Budget, Alamo dan Thrifty. Kita juga bisa memesan langsung dari Indonesia, lho.
- Selain tarif yang tercantum, kita disarankan mengambil asuransi yang nominalnya beragam, USD 9-25 per hari. Perhatikan dan baca betul klausul yang tertera. Kalau ada hal yang tidak dimengerti, petugas konter akan dengan senang hati menjelaskannya.
- Website pembanding harga juga berguna untuk mendapatkan gambaran harga hotel. Hotel di kota dekat tempat wisata seperti Sedona memasang harga minimum Rp 500.000 per malam di musim non liburan dan bisa mencapai Rp 1,5 juta per malam saat peak season.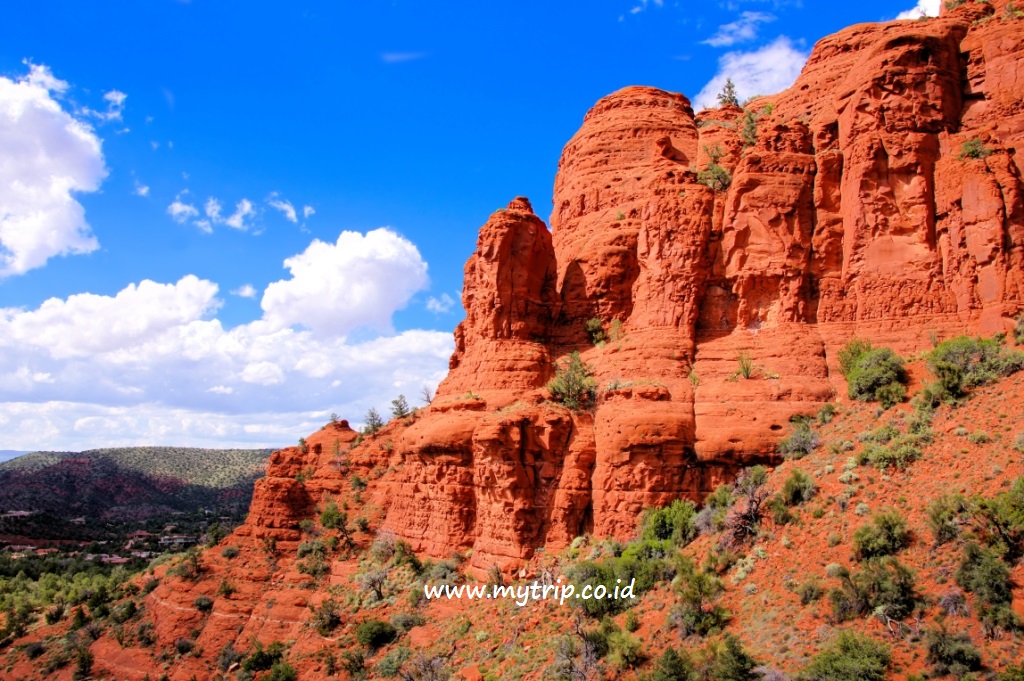 Red cliffs di Sedona
INFO
Negara Bagian Arizona memiliki dua bandara yang terletak di kota yang berdekatan, yaitu Phoenix dan Tucson. Tiket Jakarta–Phoenix PP mulai USD 1.500-an dengan rute Jakarta–Tokyo–Los Angeles–Phoenix.
Catatan: Semua harga yang tertera dapat berubah sewaktu-waktu.
Untuk destinasi wisata di Amerika yang lain baca juga "Panduan Lengkap Berkeliling Yellowstone National Park"